Lhasa celebrates festival of women's protector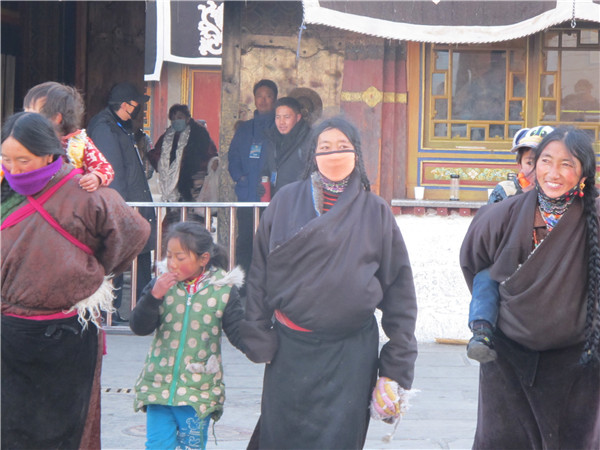 Pilgrims from far away make their pilgrimage to Jokhang Temple on Tuesday. [Photo by Palden Nyima/chinadaily.com.cn]
Lhasa's ancient Barkor Street was filled with the smoke from burning juniper branches and the sound of prayers, as thousands celebrated the annual Pal Lhamo festival on Tuesday.
The one-day event is practiced on the 15th day of the 10th month according to the Tibetan calendar.
"Tibetan women consider Palden Lhamo, one of the protective deities of the Tibetan Buddhism, as their protector, and the females regard it as an important day," Yeshi Choedron, an English announcer at the Tibet People's Broadcasting Station, explained.
The religious festival has become a particular favorite of women in Lhasa, as many young girls can ask for money from any men on the occasion.
Kalsang Drolma, a waitress in Lhasa, said she profited from the rare religious event.
"I woke up at 4 am and arrived at the Jokhang Temple at 5 am. I am pleased to pay my visit to the Pal Lhamo deity today," she said.
The 26-year-old said she made about 500 yuan ($72) from her WeChat friends in the first half of the day.
According to Yeshi Choedron, Tibetan women would traditionally not ask for money from men on this day, and the event has evolved over time.
"Traditionally, while people make offerings to the deities with cash and offerings, they would donate tips for the lower class or the poor," the 34-year-old said.