Beijing's '7th Ring Road' complete
A 1,000-kilometer expressway linking Beijing and nearby cities in Hebei province was completed on Tuesday, which will ease traffic congestion and improve regional economic growth in the area.
The expressway linking Miyun district in Beijing and Zhuozhou in Hebei marks the completion of G95, a ring-road expressway, part of which is in the capital.
As Beijing already has six ring-roads within the city, the public has been calling the new expressway "the 7th Ring Road". However, only 38 km of the expressway goes through Beijing, with another 38 km in Tianjin, while the remaining 924 km runs through Hebei.
The expressway looks like a huge necklace, linking 13 major cities around Beijing, including the cities of Chengde, Langfang, Gu'an and Chongli, which will improve the transportation network of the Beijing-Tianjin-Hebei area.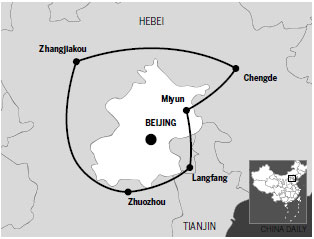 "The Miyun-Zhuozhou expressway will reduce the traffic density of cargo trucks on current expressways in southeastern Beijing," Huo Leisheng, a road management officer of the expressway, was quoted as saying by Beijing Daily on Tuesday.
More importantly, the Miyun-Zhuozhou expressway will become the most convenient way to get between the two airports in Beijing.
"The integration of Beijing-Tianjin-Hebei requires a modern transportation network," said Zhang Guohua, a professor at the China Academy of Urban Planning and Design.
In recent years, Beijing has developed a system of ring and radial roads linking nearby areas in preparation for the region's integrated economic development.
Gao Jinhao, head of the traffic and transportation office of Hebei province, said the province takes up more than 80 percent of the Beijing-Tianjin-Hebei area, which means Hebei should bear more of the responsibility for building a modern comprehensive transportation network.
Previously, drivers had to go through Beijing when traveling between cities in Hebei, such as Shijiazhuang and Tangshan, or Zhangjiakou and Chengde. This not only reduces connectivity between areas, but causes traffic congestion in Beijing.
According to the authority, the road network in Hebei will reach 250,000 km, with expressways surpassing 9,000 km by 2020.