Diplomats hold positive view of CPC's future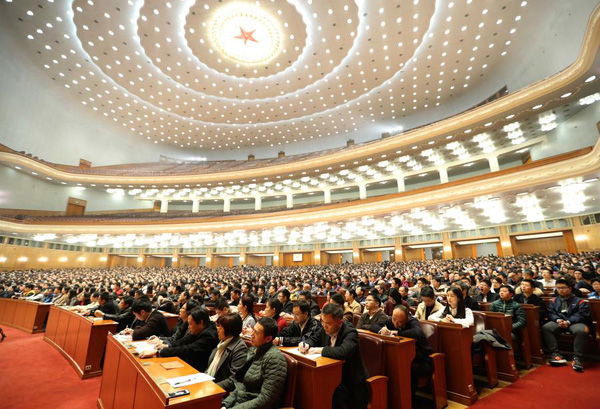 Officials take part in a promotion meeting about learning the spirit of the 18th CPC Central Committee's sixth plenary session on Nov 4, 2016 in Beijing. [Photo/Xinhua]
Foreign nations are maintaining a positive outlook for the Communist Party of China as it enters a new era with Chinese President Xi Jinping as the core leader and strict internal oversights, foreign officials said on Friday.
More than 220 diplomats and senior officials from 130 countries attended a briefing organized by the International Department of the CPC Central Committee on the outcomes of the just-ended sixth plenary session of the 18th CPC Central Committee.
Guo Yezhou, the department's deputy minister, hosted the event and Q&A sections between diplomats and senior CPC officials Tian Peiyan and Miao Qingwang, who helped draft the plenum communique.
"This is a good opportunity for diplomats to better understand China's intraparty ecology before the 19th CPC National Congress next year," said Ali Murat Ersoy, Turkey's ambassador to China.
The sixth plenary session, held from Oct 24 to 27, issued a regulation on the norms of intraparty political life and a revision of intraparty supervision regulation, with details ranging from upholding Party rule to prohibiting flattery.
"This demonstrates the Party's determination to strictly regulate itself and institutionalize supervision for clean Party and government," said Miao, head of the research office of the CPC Central Commission for Disciplinary Inspection.
The session also established Xi as the "core" leader of the Party. "Under his leadership, China will reach its goal of building a moderately prosperous society for 1.4 billion people," said Guo.
But China still faces many internal and external challenges.
The four challenges the Party needs to overcome are long-term governance, opening-up, a market economy and external environments, said Tian, head of the Party building bureau of the Policy Research Office of CPC Central Committee.
Party members also have to beware of the four dangers: lack of discipline and spirit, incompetence, alienation from the people and corruption, he said.
In the global context, competition among nations is highlighted by the conflict in ideology, methodology and efficiency, Tian said. "Only through improving the Party can we strengthen its governing capacity and the leadership of the country.
"For a party with 88 million members, it is better to take care of discipline instead of letting it run its way," said Leonidas Rokanas, Greece's ambassador to China.
Discipline is good because it forces the Party to focus on its goals of poverty alleviation and building a moderately prosperous society, he added.
Augustin Buregeya, the first secretary of the Republic of Rwanda, said the Party needs strong leadership and a high level of discipline to weed out corruption.
"President Xi is the visionary leader China needs to push forward its government and social transformation," Buregeya said.