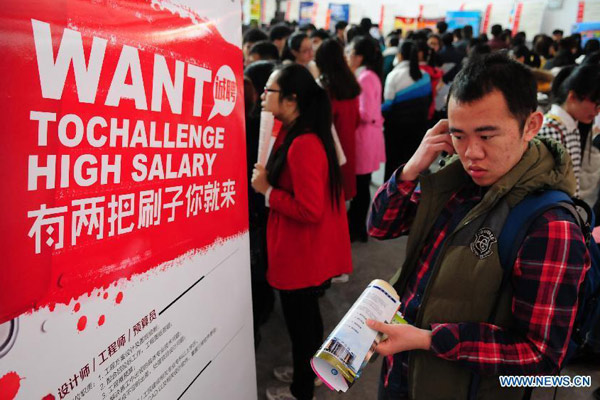 A job seeker looks through employment information at a job fair held for fresh graduates in Liaocheng city, East China's Shandong province, March 14, 2015. [Photo/Xinhua]
Employees in the finance sector earned more money than those in other industries in 2015, according to the data released Friday by the National Bureau of Statistics (NBS).
The annual average income of finance in the previous year is as much as 114,777 yuan ($17,584), 1.85 times than that of the 53,615 yuan national average level.
The other two high-income sectors following finance are the information transmission, software and IT services at 112,042 yuan, and the scientific research and technology services at 89,410 yuan.
The bull stock market drove the whole capital market high in the first half of last year. It pulled up the added value of the finance industry and the growing rate of tax revenue, in line of which was the salary of the employees in this industry, so it is within the expectation of the public that finance tops the list, according to the analysis by China Business News.
The NBS data also indicates that the gap between information transmission, software and IT services and finance has been narrowed from 7,476 yuan in 2014 to 2,735 yuan. It illustrates that internet information sustains stronger momentum in the background of Internet Plus and industrial restructuring.
Compared with that, the income of those industries is much lower which involve more physical work and provide low entrance threshold.
The lowest income industries are farming, forestry, animal husbandry and fishery with 31,947 yuan, accommodation and catering industry with 40,806 yuan and water conservancy, environment and public facilities management with 43,528 yuan.
The income gap between the highest-income industry and lowest-income sector has been narrowed a bit as the ratio of the two is 3.59, lower than the 2014 figure of 3.82.
Due to the excess production capacity, the average annual income of mining industry dropped 3.7%, the first industry of negative growth in many consecutive years.