People should not be concerned about visiting the Xinjiang Uygur autonomous region despite a series of recent terrorist attacks, as the overall situation is stable and under control, the vice-chairman of the region said on Thursday.
Shi Dagang said Xinjiang had made stability its priority for years, had stepped up work to combat separatism and maintain social stability, focused on ethnic unity and prevented religious extremism.
These efforts had been made to construct a united, harmonious, prosperous, rich, civilized and livable region.
Shi was speaking at a news conference for the fourth session of the China-Eurasia Expo. The three previous sessions brought nearly 1 million visitors to the region and saw the signing of deals for 513 projects worth $17.3 billion.
Shi said there is good development momentum in Xinjiang, and people in the region are benefiting from achievements and preferential policies.
The terrorists attacked because they found they had no space to survive, he said, adding that is safe to travel in Xinjiang.
On Monday, an anti-terrorism drill was held in Urumqi, the regional capital. The drill included explosions, vehicles being hijacked and hostage-taking. Police, armed officers, health and emergency departments took part in the exercise.
President Xi Jinping told a meeting of the top leadership on May 26 that the stability of Xinjiang is strategically vital to China's reform and development as well as national security.
He was speaking one day after a one-year nationwide campaign against terrorism was launched, with Xinjiang the main focus.
Another campaign launched later aims to keep terrorism-related material off the Internet, as almost every terrorist involved in recent violence has listened to or watched audio files and videos related to terrorism.
On May 22, a bomb attack at a morning market in Urumqi killed 39 innocent people and injured 94 others.
On April 30, three people, including two terrorists, were killed and 79 injured in an explosion at a railway station in Urumqi.
gaobo@chinadaily.com.cn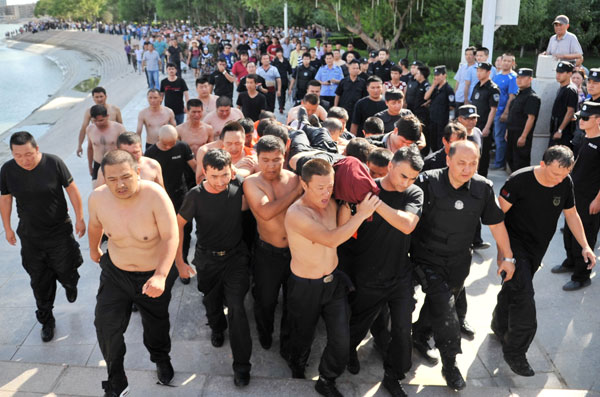 Police officers carry the body of Xirali Aby, an assistant police officer who died on Wednesday while trying to save two people from drowning in a river in Kuerle, the Xinjiang Uygur autonomous region. Da Linta / for China Daily