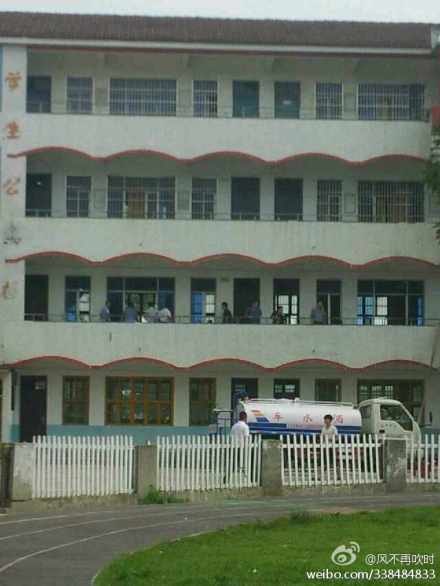 Police officers were seen dealing with the knife wielding attacker outside the classroom. Photo by Sina Weibo user. [Photo/weibo.com/338484833]
A knife-wielding attacker who broke into a primary school and attempted to kidnap a teacher was shot dead in Qianjiang city of Hubei province, Chutian Metropolis Daily reported on its official Sina Weibo account on Tuesday.
Around 9 am, Zhang Zeqing, 65, forced his way into Class Three, Grade Six in Number Three Primary School of Haokou Town, in an attempt to kidnap the female class teacher. He carried five kilograms of gasoline and a self-made explosive device.
At the request of the class teacher, he allowed more than 50 students to leave the classroom. Later a town official surnamed Wang replaced the teacher as his hostage.
Primary investigations showed he had nothing to do with the school, and had been imprisoned twice for theft and making firearms. He was released last year.
Nobody else was injured.
Further investigations are under way.