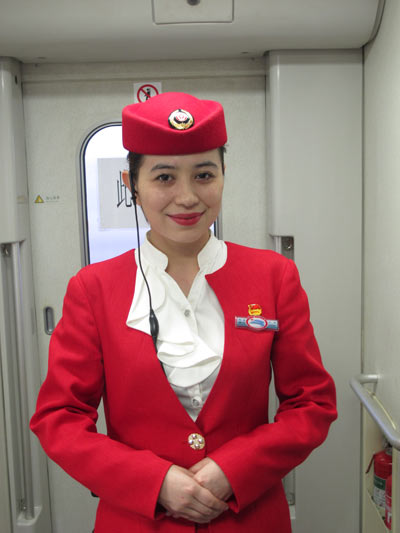 Zulnumar Tursu smiles on the train during a trial operation in Xinjiang Uygur autonomous region on June 4, 2014. [Photo by Gao Qihui/chinadaily.com.cn]
As the first high-speed railway between Lanzhou and Urumqi is expected to officially operate at the end of the year, 22-year-old Uygur ethnic Zulnumar Tursu feels lucky to be one of the attendants to be able to board her hometown's very first high-speed train.
Tursu and her team have received training from the Urumqi Railway Bureau and will be sent to receive further schooling from high-speed train operators.
According to Tursu, it takes more than a pretty face to get her job. Tursu is one of the team of about 10 women chosen over thousands of other applicants who wanted to work on Xinjiang's first high-speed train.
High-speed attendants are must meet requirements that include a height between 166-174cm tall and weight between 52-58kg. They also must master how to present themselves and keep smiling.
Like Tursu, who had worked as an attendant on regular trains for three years, the rest of the crew were all selected from those working on existing trains.
Working as a long-distance train attendant means less time to spend at home. Tursu used to work three consecutive days and then take a three-day break. She feels relieved that her boyfriend supports and understands her working hours. "He loves me as a person, not my profession." She said.
Once the train is in operation, travel time between Northwest China's Lanzhou and Urumqi in Xinjiang Uygur autonomous region will be reduced from the current 20 hours to eight.