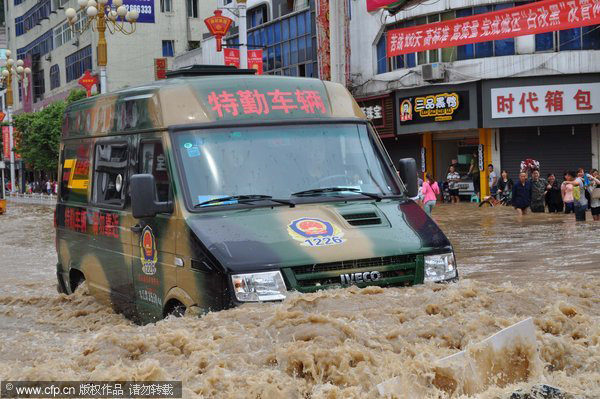 A police car drives through a waterlogged street in Tongzi county, Zunyi city ofSouthwest China's Guizhou province, June 3, 2014.Incessant rains from Sunday to Tuesday caused the county to swell.[Photo/CFP] 
BEIJING -- Heavy rain will hit parts of south China, the country's weather observatory said on Wednesday.
Heavy rain will sweep the Sichuan Basin, Guangxi Zhuang Autonomous Region, as well as Guizhou, Yunnan and Hunan provinces on Wednesday and Thursday, the National Meteorological Center (NMC) said.
The NMC issued a blue warning alert on Wednesday, saying that parts of Guizhou Province and Guangxi Zhuang Autonomous Region will see torrential rain, with precipitation up to 160 mm from Wednesday afternoon to Thursday afternoon.
Rain will also hit the central and eastern parts of Inner Mongolia Autonomous Region as well as northeast China over the next three days.
China has a four-tier color-coded warning system for severe weather, with red being the most serious, followed by orange, yellow and blue.