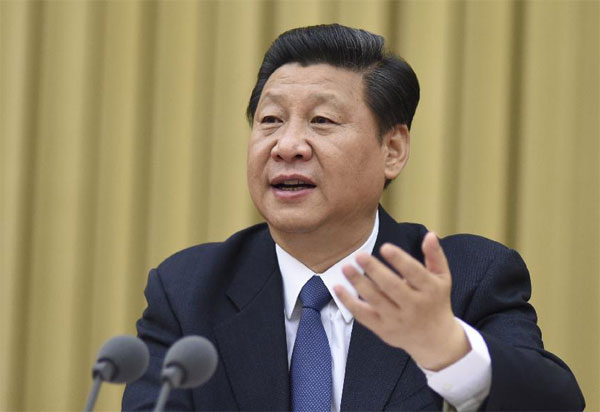 Chinese President Xi Jinping, also general secretary of the Communist Party of China (CPC) Central Committee and chairman of the Central Military Commission, addresses the second central work conference on the development and stability of northwest China's Xinjiang Uygur Autonomous Region, in Beijing, May 28, 2014. [Photo/Xinhua]
BEIJING -- Chinese President Xi Jinping has called for "nets spread from the earth to the sky" to defend against terrorist acts in Xinjiang, stressing long-term stability as the main goal for the region.
Xi made the remarks at the second central work conference on northwest China's Xinjiang Uygur autonomous region, a two-day meeting which closed on Thursday.
While urging strengthened precautions and international anti-terrorism cooperation, Xi called for "walls made of copper and steel" and "nets spread from the earth to the sky" to capture terrorists.
The meeting was held in the wake of a series of bloody terrorist attacks in the region, including one in an open air market in Urumqi, the region's capital, which left 39 people dead and 94 injured on May 20.
Calling for "meticulous" religious work, Xi stressed that there should be a focus on helping religion adapt to a socialist society and ensuring the role of religious figures and believers in boosting economic and social development.
"Focus on fostering a team of patriotic clergy and boosting the general quality of people in the religious circle so as to ensure that the leadership of religious organizations is firmly in the hands of people who love the country as well as religion," he said.
According to Xi, the basic principle for easing religious tensions is to protect legal religious activities, deter illegal and extreme ones, guard against infiltration and crack down on crimes.
The president noted that people's normal religious demands should be protected in accordance with laws and regulations and their customs should be respected.
"Legal channels for religious people to accurately grasp religious knowledge should be broadened," he added.
Earlier this month, Xinjiang's regional public security department said local police had busted 23 terror and religious extremism groups and caught over 200 suspects.
LIKE SEEDS OF A POMEGRANATE
The president urged all ethnic groups in Xinjiang to "show mutual understanding, respect, tolerance and appreciation among themselves, and learn and help each other," so that they could be united together "like seeds of a pomegranate."
"The more separatists attempt to sabotage our ethnic unity, the more we should try to reinforce it," the president said, adding that unity is the "lifeline" for people of all ethnic backgrounds.
He stressed the importance of Xinjiang residents, no matter their ethnicity, identifying themselves with China, its culture and socialism with Chinese characteristics.
Efforts must be made to allow all ethnic groups to contribute to the Chinese dream of great rejuvenation, and to share the fruit of China's development and prosperity, according to Xi.
He suggested that authorities should strengthen exchanges and communication between different ethnic groups, promote bilingual education, and strive for a more integrated social structure and community environment where people are not grouped solely based on their ethnicity.
They should also allow and encourage more people from minority ethnic groups to receive education, work or live in other parts of the country, so as to enhance mutual understanding among different ethnic groups and boost ties between them, Xi said.