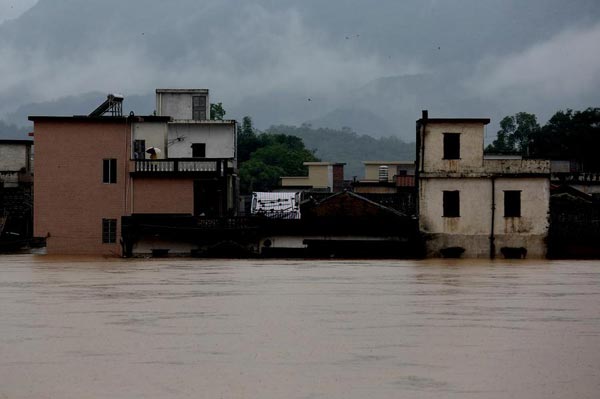 A township of Qingyuan city, Guangdong province is inundated by heavy rains on May 22, 2014. [Photo/Xinhua] 
GUANGZHOU - At least eight people were killed and two are missing in the heaviest rain in decades in south China's Guangdong Province since Thursday, local authorities said.
As of 7 p.m. Friday, more than 400,000 people were affected by the rainstorms, which caused landslides, interruptions to traffic and telecommunications, and forced some schools to suspend classes, according to the provincial flood control and drought relief headquarters.
Qingxin District in Qingyuan City has been worst hit by the storms, and more than 1,400 residents are trapped by floodwater and landslides, said Xie Jiebin, a municipal government official.
The water level of 7 rivers in the province exceeded the danger level, according to the provincial hydrographic administration.
The rain is expected to abate in the next three days but the possibility of geological disasters is still high, according to the headquarters.