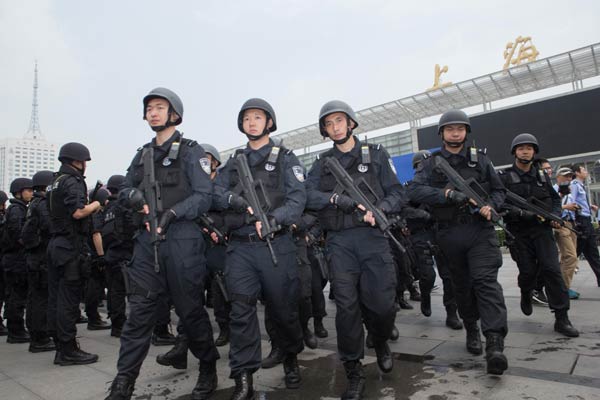 Police officers patrol the south square of Shanghai Railway Station on Wednesday. A ceremony was held to launch a joint armed patrol by public security and railway officers to counter terrorist attacks at major traffic hubs. Gao Erqiang / China Daily
Shanghai will step up security at railway stations with armed police officers, following a wave of violent attacks across the country, authorities said on Wednesday.
The effort coincides with the Fourth Summit of the Conference on Interaction and Confidence Building Measures in Asia, which the city will host on May 20 and 21.
The public security department and railway police will deploy armed patrols at the city's seven railway stations.
"Our priority is to ensure a smooth summit. We will continue to improve our anti-terrorism ability to combat violence," said Liu Yanping, vice-minister of public security.
Shanghai police also carried out exercises on Wednesday afternoon at Shanghai South Railway Station and the city's long-distance bus station.
Tao Jiong, a spokesman for Shanghai railway police, said officers were cooperating with other departments such as firefighters, anti-riot and anti-terrorist brigades.
About 300 police have been patrolling major traffic hubs. About 400 officers from neighboring provinces have also been dispatched to help with security work at three train stations in Shanghai.
Liu Wei, a 29-year-old volunteer, said he and other volunteers are helping police patrol subway stations, railway stations and long-distance bus stations.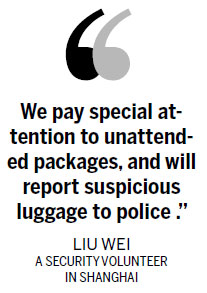 "We pay special attention to unattended packages, and will report suspicious luggage to police," he said.
Sniffer dogs have also been deployed at entrances to subway stations, railway stations and long-distance bus stations.
Earlier, Shanghai police deployed 125 SWAT teams in downtown areas, transportation hubs and scenic locations, such as the Bund and Yuyuan Garden.
Officers are equipped with helmets, bulletproof jackets, batons, shields and firearms.
The helmets have 4G transmission devices. When police arrive at the site, a real-time picture of the area can be sent to the command center.
Qi Xiaojun, a 32-year-old passenger, said recent terrorist attacks at railway stations in Kunming, Urumqi and Guangzhou have made him more concerned about traveling by train.
"But you can see that Shanghai police are strengthening checks with enhanced measures, and travelers may feel a greater sense of security," he said.
Contact the writers at wanghongyi@chinadaily.com.cn and wuyiyao@chinadaily.com.cn.