BEIJING - Contrary to an aggressive image painted by Vietnam and the United States lately, China has been quite restrained about what happened in the Xisha Islands last week.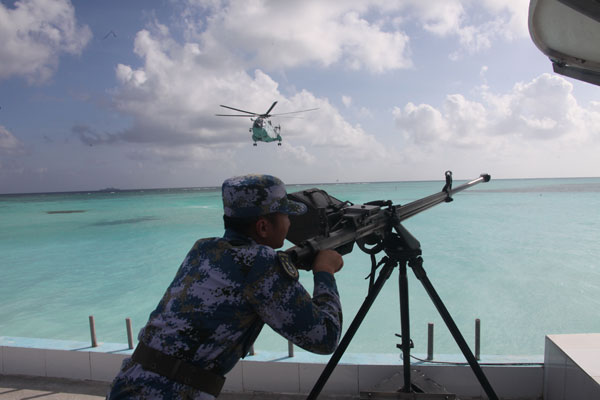 A soldier of the People's Liberation Army navy stands guard during a drill to test the defense of the Nansha Islands. Battleships from the PLA navy's South Sea Fleet are undergoing a long-distance training mission while patrolling the Xisha and Nansha islands. Gao Yi / For China Daily
The trouble started when Vietnam attempted to stop a Chinese company from drilling in waters 17 nautical miles (some 31 kilometers) from China's Zhongjian Island and 150 nautical miles from the Vietnamese coast.
Chinese companies have been operating in these waters for about a decade and the current operation is a routine continuation of that work. China considers the Xisha Islands and the waters around them an inalienable part of Chinese territory.
From May 3 to 7, Vietnam dispatched 36 vessels, including armed warships, to harass the rig and interrupt drillings, deliberately and rampantly ramming Chinese boats as many as 171 times. How a country should respond to such harassment in its own territory may vary, but China's response has not crossed any line.
According to Yi Xianliang, deputy director-general of the Department of Boundary and Ocean Affairs at the Ministry of Foreign Affairs, China communicated through diplomatic channels with Vietnam 14 times from May 2 to 8. Vietnam was asked to respect China's territorial integrity, stop all forms of disruption and quit the scene.
Clearly Vietnam did not heed China's request.
Islands in the South China Sea, including Xisha Islands, were first discovered, named and administered by China. China's historical rights were respected by international law and in fact remained undisputed until the discovery of oil in the 1970s.
To cut a share, countries like Vietnam have tried to muscle their way in. For instance, Vietnam unilaterally divided the waters around the Nansha Islands into sections and offered them to international bidders for oil exploitation.
Over and above oil matters, Vietnam persistently harasses Chinese fishing boats and has tried to occupy islets in the waters.
In face of these affronts, China has exercised great restraint and fully implemented the Declaration on the Conduct of Parties in the South China Sea, which it signed with ASEAN in 2002.
By antagonizing China and making the situation more complicated by dragging irrelevant countries into the issue, Vietnam seems to be ignoring its duty as an ASEAN member to follow the letter and spirit of 2002 pact and maintain peace and stability in the region. The consensus reached by the leaders of the two countries on friendship, cooperation and sensitive issue also appears to have been forgotten.
Restraint as a good neighbor should not be misread as weakness. China is as determined as any other country to safeguard its sovereignty.