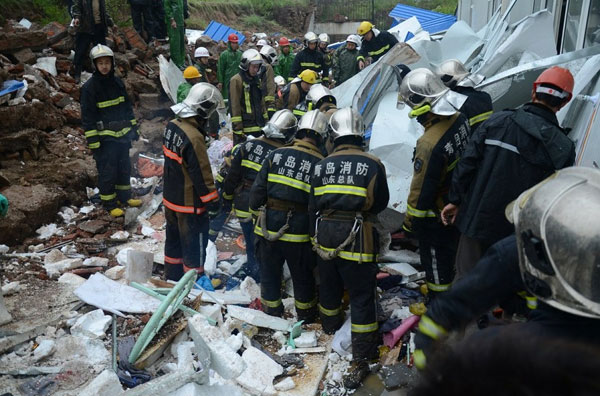 Rescuers search for survivors after heavy rain caused a wall to collapse at a renewable resources company in Qingdao, Shandong province, May 11, leaving eighteen people dead and three others injured. The accident happened in a building housing the company's employees. [Photo/Xinhua]
QINGDAO - Eighteen people were killed and another three injured early Sunday morning after a rainstorm-triggered wall collapse in Qingdao in east China's Shandong province, said local authorities.
At 5:48 am Sunday, an earth-retaining wall collapsed and fell onto a makeshift house for staff at a processing site of a Shandong renewable resource company at Huangdao Island, said the press office with the Qingdao city government.
The wall collapsed due to waterlogging after a rainstorm.
Rescuers soon rushed to the site and conducted a search.
As of Sunday noon, rescue work had finished. Three injured people have been sent to receive medical treatment.
Investigation into the incident is under way.