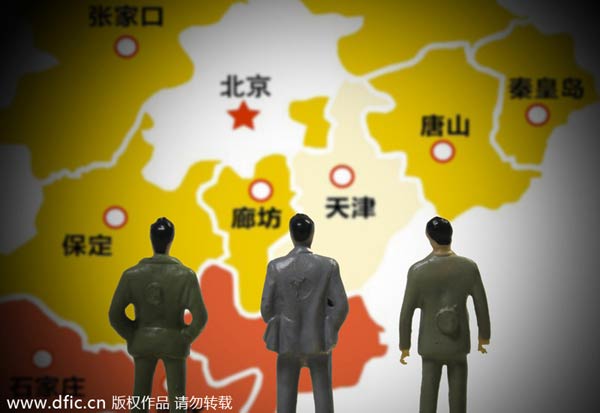 Beijing has launched an initiative to integrate with neighboring Tianjin municipality and Hebei province. The capital will relocate less important industries and transfer residents to neighboring cities, with the aim of easing overcrowding and boosting the competitiveness of its surrounding areas. [Photo/icpress.cn]
BEIJING - Nearly 76.5% of Beijing residents accept the need to build an "auxiliary capital" to address its megacity woes, according to a survey published on Thursday.
The survey, which was conducted by the China Youth Daily, showed that 57.6 percent believe an auxiliary center would help to ease traffic, relocate surplus population, cut pollution, and be a better use of resources.
Respondents want labor-intensive industries, auto equipment manufacturing, traditional manufacturing and low-end service sectors to move out of the city.
Meanwhile, they want medical institutions, commercial centers, government agencies, college and research facilities, nursing homes and high-tech companies to stay, according to the survey.
Half of those surveyed expressed their willingness to move to an "auxiliary capital" while nearly 30 percent said they would not.
Nearly 32 percent, however, are worried about the possible side effects of an auxiliary center, saying it may give rise to a hike in commodity and real estate prices, inconvenience and new inter-city traffic problems.
Housing prices in the city of Baoding in north China's Hebei Province have surged over the past months on rumors that the city could become an "auxiliary national capital".
The survey sampled 2,502 people with 10.9 percent of them born in the 1990s, 58 percent in 1980s, and 25.9 percent in 1970s. Their jobs ranged from employees of private and state-owned companies, government agencies, to those working in colleges and research centers.