Southeast Asian children at risk of getting infectious Japanese encephalitis are expected to be immunized by 2015 with the first Chinese vaccine to obtain WHO prequalification, according to a senior official.
The vaccine, prequalified in October, meets international quality, safety and efficacy standards and could be integrated into the global vaccine supply, said Zhang Li, the senior manager of the Global Alliance for Vaccines and Immunization, a public-private global health partnership.
She told China Daily that applications for the vaccine have been sent to needy countries, mainly in Southeast Asia, with annual per capita incomes under $1,550.
Japanese encephalitis strikes quickly and usually has a devastating impact on children and their families, medical experts said.
About one in four cases is fatal.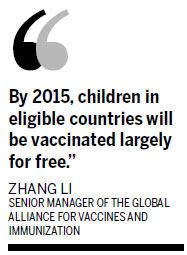 According to Zhang, the first round of feedback has been received, though the purchasing process hasn't started.
The application process will close in May and UNESCO will purchase the vaccine from the Chengdu Institute of Biological Products on behalf of the association.
Final details, including the eligible countries, will be announced in late May.
"By 2015, children in eligible countries will be vaccinated largely for free," she said.
According to Zhang, group purchases can greatly reduce the price of vaccines for developing countries.
The HPV vaccine, proven to prevent cervical cancer, sells for $300 per recipient in the United States, but under the alliance's global supply system, the price is less than $15, she said.
Ge Yonghong, managing director of the Chengdu Institute of Biological Products, said production capacity increased during the prequalification process.
"Our production output of the JE vaccine can meet demand at home and in other needy countries," he noted.
According to Ge, it took the institute seven years to get the WHO prequalification, but "it's just the starting point for Chinese-made vaccines to go abroad and benefit children worldwide," he said.
Chinese children can receive the vaccine free of charge through the national immunization program.
shanjuan@chinadaily.com.cn