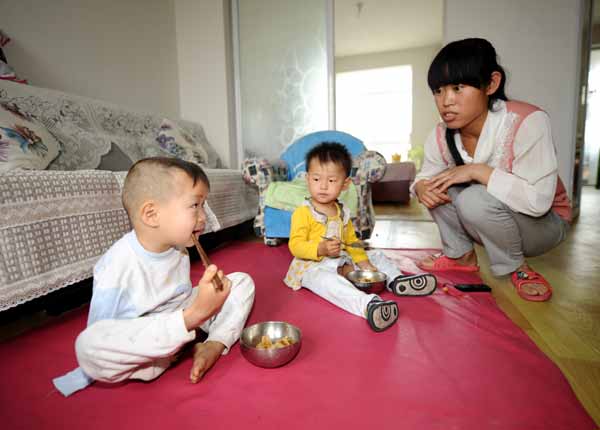 Xu Aixiang encourages her foster child, Wu Zhenfeng, to use his foot to hold chopsticks for dinner in their home in Taiyuan, Shanxi province. Wu was born without arms. Yan Yan / Xinhua




FOSTER PARENT Definition: A foster parent refers to a person who acts as parent and guardian for a child in place of the child's natural parents but without legally adopting the child. The legal guardian for the fostered child is the local government, usually the civil affairs department or a child welfare home.

Compensation: A foster parent is compensated for expenses incurred by taking care of the child.

Qualifications: A foster parent should have stable income, a harmonious relationship with family members and neighbors, be aged 30 to 60, in good health, have at least nine years of education, have no criminal record or poor living habits. The law does not say whether an expat can be a foster parent in China.

Adoptive parent

Definition: An adoptive parent refers to a person who provides a permanent home for a child through a legal process with the civil affairs department above the county level.

Qualifications: An adoptive parent should have no child and be age 30 or older. An applicant can adopt one healthy child or unlimited numbers of disabled children. There are strict requirements for applicant's financial status, education level and health. Foreigners can adopt children from China if they meet the same requirements.
                            - He Dan 

Caregivers may be subject to criminal penalty for abuse of child
Foster parents will face harsher punishments, including criminal penalties, if they are found abusing children under their care, according to a draft law published by the State Council on its website.
The temporary caregivers can be held criminally liable if they seek illegal profits from the children they shelter, or if they abuse them or seriously violate the child's rights, according to the draft, which revises regulations governing foster families.
The current rules expose violators to fines and administrative penalties, but not criminal sanctions.
Public comment about the proposed law is being solicited until June 5.
Compared with the current regulation that took effect in 2004, the draft proposes a five-step procedure for applicants to become foster parents, and it sets up stricter standards for qualification.
The draft also stipulates that the only couples who may apply are those with no children younger than 6 years. Also, a foster family may take care of two children at most, one fewer than the current rule.
Li Yan, head of the Zhengzhou Child Welfare Home in Henan province, said that about 200 of her institution's 800 children are living with foster families because the organization cannot provide enough beds.
The welfare home has chosen couples from two nearby villages as foster parents, and social workers have made regular visits since 2009, Li said. Every foster family gets a monthly subsidy of about 900 yuan ($144).
Dong Hui, deputy director of the department of social welfare and philanthropy at the Henan Bureau of Civil Affairs, said local child welfare institutions resort to foster families when they are understaffed or do not have enough beds.
In Henan, about one-fifth of the 6,000 children under the State's care are living with foster families, she said.
Wang Jinxia, an official from the child welfare division of the Ministry of Civil Affairs, said China has been using foster families for years as an effective way to create a family for children.
"Returning home is the best way for children to grow, and with foster families they can feel they have parents," she said.
But the number of foster families has declined in some regions.
Beijing's Daxing district saw the number of children in foster families decline from 1,100 in 2006 to 110, Beijing Times reported on Monday.
Wang said a decline was also seen in other parts of the country. Most children in welfare homes in recent years were abandoned by their birth parents because of severe disease or disability, Wang said.
"Disabled children are not suitable for living in foster families as they usually require intense rehabilitation exercises, assisted by professional caregivers," she said.
China had 615,000 orphans under State care by the end of 2012, according to the Ministry of Civil Affairs.
hedan@chinadaily.com.cn