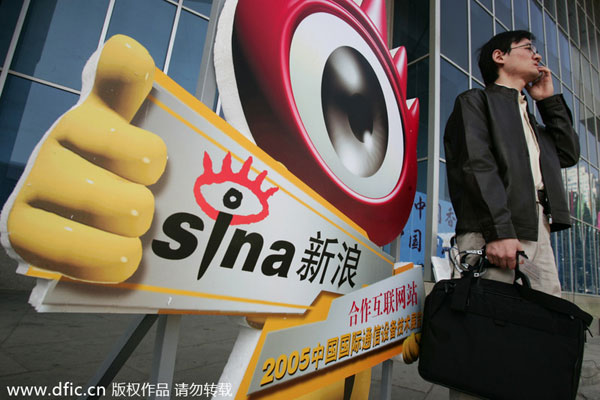 A man stands in front of an advertisement of Sina.com at an exhibition in Beijing, China. [File photo/dfic.cn]
Sina Internet Information Service Co, one of China's Internet giants, has been suspended from engaging in Internet publication and audio and video dissemination for allegedly running pornographic content online, the National Office Against Pornographic and Illegal Publications said on Thursday.
"We have revoked the two licenses of Sina.com, including those for Internet publication and network distribution of audiovisual programs, and fined the company up to 5 million yuan ($800,000)," said Zhou Huilin, deputy director of the office.
The decision on Sina's licenses will be reviewed after the company removes all offensive material and revises its practices, Zhou said.
According to the Beijing Public Security Bureau, the people from Sina who are responsible have been detained for further investigation.
Sina allegedly published as many as 20 obscene articles in its reading channel and posted four Internet audiovisual programs spreading obscene information, said Shen Rui, director of the Internet law enforcement department under the Beijing Cultural Market Administrative Enforcement Bureau.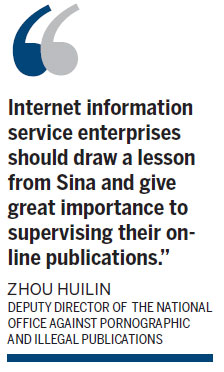 He said that some of the articles that were investigated included 500 chapters, and the number of clicks was more than 1 million, which brought serious negative social impact and seriously harmed the physical and mental health of minors.
In addition, Sina was also suspected of illegally providing Internet audiovisual program services, Shen said.
"Sina.com, as a large-scale Internet portal with a quantity of Internet users including minors, should have abided by the law to seek profits, but it ignored the law and took the form of network literature and audiovisual programs to openly spread pornographic information resulting in great harm to the society," Zhou said.
"Internet information service enterprises should draw a lesson from Sina and give great importance to supervising their online publications," he said.
"They should improve the supervision mechanism for Internet information and strictly prevent obscene information from spreading online," Zhou said.
The anti-pornography office and Internet regulation authorities jointly declared war against online obscenity on Sunday, as part of a wider campaign to tighten the grip on the Internet. The campaign will last until November.
During the campaign, authorities will crack down on important Internet portals that are suspected of running obscene information, and those responsible will be held criminally accountable or transferred to the disciplinary inspection department for investigation, according to Zhou.
People who post pornographic articles online for profit can be charged with crimes of producing and distributing obscene materials, which can lead to sentences of up to three years in prison, according to a judicial explanation issued in 2004.
Individuals who pocket more than 250,000 yuan ($40,000) from publishing pornographic articles, defined as a serious violation of the law, can face life imprisonment and confiscation of their personal property.
Contact the writers at zhangyan1@chinadaily.com.cn and jinhaixing@chinadaily.com.cn