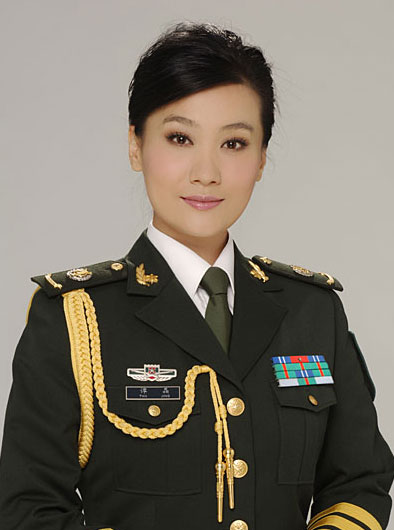 The agent of People's Liberation Army singer Tan Jing has denied speculation of the singer's involvement in the Party's anti-graft investigations of a senior official, saying Tan's recent absence from the public has been because of pregnancy and giving birth to a baby.
Tan, a singer with the Song and Dance Company under the General Political Department of the PLA, recently gave birth to a baby and is on maternity leave, according to Li Tianpeng, her agent.
Li rejected online speculation that Tan's recent disappearance from public view was caused by the Party's anti-graft investigation of Shen Weichen, Party chief and executive vice-president of the China Association for Science and Technology and former Party chief of Taiyuan, Shanxi province.
Tan's absence from the annual Spring Festival Gala of China Central Television and this year's National People's Congress session has fueled speculation about her links with Shen. Both Tan and Shen are natives of Shanxi province, and Tan sang the ending theme of the historical TV series Qiao's Grand Courtyard, for which Shen was the mastermind when he served as the chief of the province's publicity department.
Li said Tan gave birth to a child around this year's Spring Festival. She refused to disclose the gender of the baby.
In response to suggestions that the speculation could be part of a publicity stunt, Li said: "The netizens are really rich in imagination. Could you imagine a mother who has a child of less than 100 days so eager to be part of the hype? That is so funny."
According to Li, Tan is married to Deng Zhonghan, an academician of the Chinese Academy of Engineering and board chairman of Vimicro Corp, a leading video technology supplier in Beijing.
The couple have been deputies to the 11th and 12th National People's Congress, a tenure that began in March 2008.
Li declined to provide details on how the couple met and when they were married.
With a broad taste in music, ranging from Chinese folk and pop songs to foreign soul, pop and R&B, Tan is among the Chinese singers with the most experience in performing internationally. She has performed at the Beijing Olympics, London's Royal Albert Hall and the United Nations headquarters.
She has also served as a cultural ambassador for the Union of European Football Associations, promoting the European Cup in China in 2012.