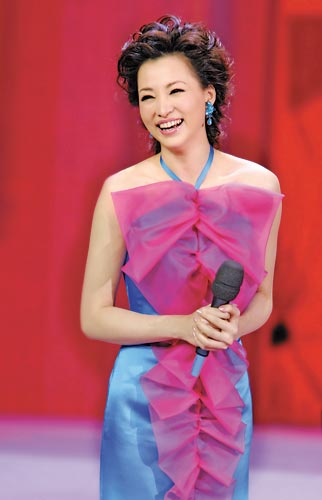 Dong Qing, broadcast presenter with China Central Television, says she will leave for a year to study in the US.
Dong Qing, a broadcast presenter with China Central Television, has denied rumors that she is resigning from the broadcaster and confirmed she has applied for a one-year leave to study at the University of Southern California as a visiting scholar.
"Everybody has some distance to reach a better self. The competition in the television industry is fierce, and I really need to recharge myself with new knowledge through further learning," Dong was quoted by West China Metropolis Daily as saying on Tuesday.
"No matter who you are or how old you are, everybody should have a pursuit in life. However, I didn't resign from CCTV, and I will come back to the stage for sure."
An official statement released by CCTV-3 on Thursday confirmed her overseas study trip.
"Dong's excellent program presenting and work ethic have earned her recognition from the audience over the past 12 years. The whole team will support her and hope she can better herself as a hostess in the future," the statement said.
Since joining CCTV in 2002, Dong has become a widely recognized TV presenter in China. She has hosted the high-profile Spring Festival Gala for nine straight years and has twice won China's Golden Microphone Award, in 2001 and 2006.
Dong also worked as a commentator for the opening ceremony of the 2008 Beijing Olympic Games, the 2010 Shanghai World Expo and the 2010 Guangzhou Asian Games.
Recently, the 40-year-old said her career had hit a bottleneck. "The types of programs that fit my style are always the same with no surprises. I hope to take a break and improve my knowledge to be able to fit in other areas," she said.
According to the CCTV statement, Dong will aim to learn "how to play a better communicating role for modern media against the backdrop of globalization" with renowned tutors.
From 2007 to 2009, Dong studied at the Shanghai Theater Academy for her Master of Fine Arts degree.
Dong is among a group of renowned TV presenters who have taken a break from their careers for overseas study tours.
Li Jiaming, former anchor of the popular CCTV-3 program Happy Dictionary, left in 2006 when the program was at its height of popularity. He went on to study at Columbia University in New York for a master's degree in communications.
Li later returned to CCTV and now runs the Entertainment World Wide program. He has said he wants to become a TV producer.
"The overseas experiences opened my eyes and rekindled my passion for the TV industry," Li told Beijing News recently.