Shanghai is requiring an additional 400,000 households to sort their garbage and is opening 2,000 electronic waste recycling centers this year as part of efforts to reduce the amount of garbage produced in the city.
The city is also formally implementing new household garbage reduction measures on May 1 that were approved earlier this year. Under the new measures, garbage will be divided into four categories: recyclable materials, hazardous waste, wet waste and dry waste. Residents will be required to sort their garbage based on these categories.
The addition of 400,000 households who have to sort their garbage will bring the total number to nearly 2.45 million. By the end of 2013, 2.05 million households were required to sort their garbage. The plan has reduced the amount of daily garbage to 0.7 kilograms per capita from 0.82 kg, according to the Shanghai Greenery and Public Sanitation Bureau.
The city aims to lower the per capita daily volume to 0.66 kg this year, the bureau said.
"The measures are an important legislative decision to improve the city's ability to sort household garbage. It alters and regulates local residents' behaviors of dealing with garbage," Gu Changhao, deputy head of Shanghai's legislative affairs office, said at a news conference on Thursday.
"Over the past years, we have summed up our past experiences and learned from the practices of major cities in other countries, trying to make the garbage classification measures more effective," said Lu Yuexing, deputy director of the Shanghai Greenery and Public Sanitation Bureau.
Shanghai began exploring garbage classification methods as early as the mid-1990s and was among the first cities in China to pilot a national garbage classification project.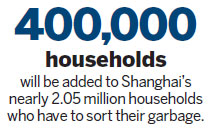 The city has since worked out a series of measures to reduce household garbage, such as promoting the construction of waste recycling facilities.
In order to encourage more residents to efficiently sort their garbage, the city will extend incentives to more selected areas in which residents will receive points for classifying their waste. Points can be exchanged for gifts.
According to a survey of 2,000 respondents by the Shanghai Statistics Bureau released in December, 98.9 percent said they are willing to sort their garbage. A majority of respondents said the city should accelerate its garbage sorting program.
But the survey also found that there are still many residents who are unable to sort their waste correctly. With more than 23 million residents living and working in the city, officials admitted it would take some time for the city to promote the new measures.
Feng Maolun, deputy director of the proposals committee with the Shanghai committee of the Chinese People's Political Consultative Conference, suggested that the government should educate the public on its garbage-sorting program.
Many residents have thus far failed to recognize what types of garbage belong in what waste bin, although they are aware that they have to sort their garbage, Feng said.
wanghongyi@chinadaily.com.cn