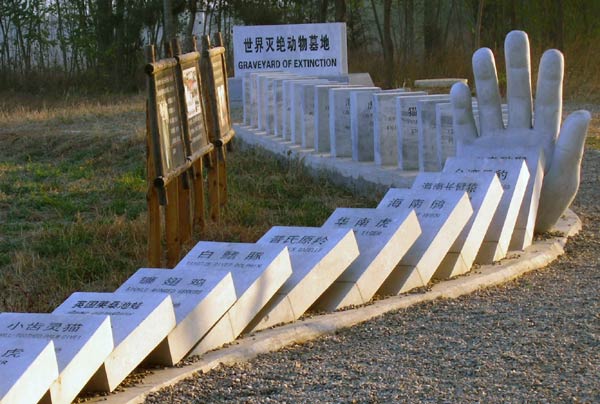 Tombstones arranged like dominos mark animal species' names and the dates of their extinction at the World Extinct Wildlife Cemetery in Beijing's Daxing district. Provided to China Daily
Standing in a cemetery in Beijing, Guo Geng reads out poems and presents flowers as part of his offerings for the dead.
But Guo, 53, is not honoring any of his departed relatives or friends.
He is paying his respects to extinct animals, and those facing extinction.
Mourning for the animals has been a routine for Guo every April since 1999, when he established the World Extinct Wildlife Cemetery in Beijing Nanhaizi Milu Park, also known as David's Deer Reserve, located in the capital's Daxing district.
"Dead relatives and ancestors should not be the only ones honored on Tomb Sweeping Day. The animals also deserve to be remembered because they are our friends," said Guo, deputy director of the Milu Ecological Research Center in the park.
The cemetery, built along a kilometer-long road, consists of 100 tombstones arranged like dominos. Carved on the stones are animals' names and dates of extinction - a Jamaican rice rat in 1880 and passenger pigeon in 1914, for example.
Some of the tombstones are engraved with the names of endangered animals. Human beings are included here.
Guo said the domino-style arrangement illustrates how the extinction of one animal may endanger several other related species. The place is also designed to enhance public awareness of the need to protect wildlife and ecology.
No animals are actually buried under the stones, but under Guo's guidance, many visitors, especially students and animal protectors, like to visit the wildlife cemetery during the tomb-sweeping holiday, which falls on Saturday this year.
"I came to the park in particular to see the cemetery. I wanted to visit the domino-styled tombstones after I watched them on television," Wang Fengtong, a resident of Beijing's Fengtai district, said.
Wang's daughter works for an animal-study laboratory and his family keeps a dog, "but sometimes we don't know how to get along better with these friends", the 63-year-old said.
He had found his answer in the park, he said.
'I was disappointed when I realized that there were lots of animals I couldn't see any more, and was shocked after I knew human beings also face extinction," he said. "The animals' deaths also affect our lives. We are all creatures in this world."
The idea of commemorating extinct animals came to Guo about 15 years ago, when he was a keeper of chimpanzees at the Beijing Breeding Center for Endangered Animals. At that time, many visitors were curious about 24 empty animal rooms in the center, and they frequently asked what the space was used for.
"That made me think whether I could use the rooms in a new way," Guo said.
"I hit upon the idea of establishing rooms for extinct animals," he said. "Since extinction means the last member of a species is gone, the empty rooms seemed the most appropriate way of expressing that."
Guo then started making use of the rooms to spread awareness about animal protection.
Later, he applied the idea of commemorating the animals to flowerbeds with crosses. "I wanted the idea to get bigger and more beautiful," he said.
The idea finally took him to the park, where it evolved into the current cemetery and domino-style stones.
Wang Bin, director of veterinary management at the Beijing Municipal Bureau of Agriculture, spoke highly of Guo's idea, saying it is creative and environmentally friendly.
Moreover, it suggests a path for handling the remains of people's pets. Too many burials may damage the environment and spread disease, Wang said, so a simulated cemetery might offer a better choice.
"That would allow people to understand not only the importance of wildlife, but also how we can cherish our animal friends," he said.
caoyin@chinadaily.com.cn