Six people were stabbed to death and others were wounded in a knife attack in a rural district of Beijing on Thursday, according to the Beijing Public Security Bureau.
Police responding to a report of the attack shortly before 1 pm in Wanghua, a village in northeast Beijing's Huairou district, took a man into custody, the department said on its micro blog.
Villagers said that at least 10 people were injured in the attack. Police did not confirm the number, but said that wounded villagers had been taken to a hospital.
The suspect, a 34-year-old village resident surnamed Zhao, is mentally ill according to the suspect's family, the police micro blog said.
The attack allegedly arose from disputes over housing, and an investigation was underway, it added.
As a China Daily reporter arrived at the scene, the village had been cordoned off, and about 10 police cars were parked in the area.
The door of the suspect's home had been locked, and his dog was left standing at the gate.
A villager who runs Guo Zhan Supermarket in the village said Zhao's mother had also been taken to the police station after the attack.
"I was working at my business and didn't hear anything around 1 pm until my neighbor called me," the 27-year-old woman said. "My neighbor had been stabbed in the waist and was bleeding."
"I immediately sent the man to the hospital," she said.
Another villager who had been playing chess with the injured neighbor was also stabbed, "but he went back home for his minor injuries," said the woman, who spoke on the condition of anonymity.
The area where the two men had been sitting was stained with blood.
"I saw the suspect as I went home last night. He didn't act abnormally," the villager said.
According to the father-in-law of the market owner, the suspect's mother came from southern China about 10 years ago and married an older man in the village, but the husband later died, leaving them a house.
Another villager, who wanted to remain anonymous, said the suspect's family had conflicts with the village committee regarding income distribution from his house relocation.
caoyin@chinadaily.com.cn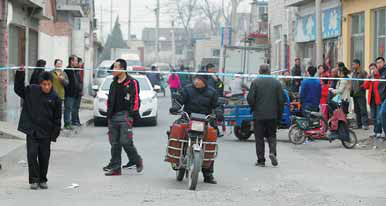 The site of a fatal knife attack is cordoned off in a village in Huairou district, Beijing, on Thursday. A villager allegedly stabbed six people to death. Wang Jing / China Daily