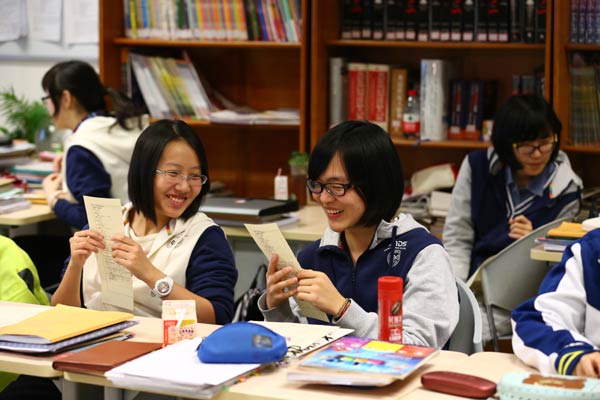 Two high school seniors at Beijing National Day School talk about their test results after an English pop quiz in April 2013. The school's pilot reform gives students more say in their courses. PROVIDED TO CHINA DAILY
The reforms in curriculum and student nurturing now taking place in a Beijing school may spread and be copied by schools nationwide, experts said.
Beijing National Day School, a reputable institution in the capital's Haidian district, is allowing students to select courses according to their own needs and interests.
That means students are no longer forced to study in a fixed classroom with the same teachers and classmates for three years. Instead, they can choose the courses they like among hundreds of options, move from one classroom to another and study with students from different grades - just as college students do.
"We provide diversified courses, create a tolerant environment and give students the autonomy to arrange their own course of study with the hope that students can realize who they are and what they want to do," said Principal Li Xigui, adding that each of the school's 4,000-plus students has a unique curriculum.
"We hope that they can gain independent personalities and minds, as well as find the drive to develop themselves," he said.
Selected by the Ministry of Education as a pilot site in 2011, the school started the curriculum reform in early 2009.
The comprehensive curriculum system, different from most schools across the country, comprises 265 courses on some basic subjects like Chinese, math, physics, geography and so on; 30 experiential courses, during which students can be fully engaged in practical activities such as conducting experiments; and 75 courses that allow students to observe and experience different occupations and help them identify what they want to do as a career.
The courses on basic subjects are also divided into several levels based on degree of difficulty, and students can choose among different levels according to their own needs.
Liu Yilun, a sophomore at the school, said that for most subjects, he had chosen the second-level courses, which can prepare him for the gaokao, China's college entrance examination.
"For students who are more capable and wish to perform better in some subjects, they may choose higher-level courses. For example, a student who is extremely interested in math and is ambitious to secure a prize in the Mathematical Olympiad may take the fourth-level math courses," he said.
Jia Xinping, also a sophomore of the school, said he liked the new curriculum system, which gave students the freedom to make their own choices.
"It also gives us a great opportunity to figure out what our interests, abilities and advantages are, and we also have learned how to make our own schedules and how to make better use of our time and energy," he said.
The curriculum reform has been a positive change not only for students, but teachers as well.
Wang Aili, who teaches biology at the school, said that teachers' responsibility formerly was merely to teach and help students get high exam scores.
"But now, they have to do more. We are still teachers, but at the same time, we are playing many other roles: supervisors, advisers, guides and companions," she said.
Wang said their responsibilities now are more about communicating with students, helping them to study on their own and solve problems, and engaging them in more practical activities.
"Under these circumstances, the relationship between we teachers and the students is more harmonious, and students feel much closer to us," Wang said. Many students now even send her messages to share their accomplishments and express their gratitude, which did not happen before the curriculum reform, she said.
With more choices in the curriculum and a more harmonious relationship with teachers, students at Beijing National Day School are increasingly satisfied with their school life, said Li, the principal.
In a survey of the students in 2013, 95 percent said they were satisfied with the curriculum system, their relationship with teachers and study partners, the teaching sources and facilities, and the way the school was organized and managed.
Shen Jiliang, deputy director of the Education Ministry's basic education department, said Beijing National Day School has set a good example and can be spread among schools nationwide.
"The student-oriented teaching mode pays attention to the differences among individuals and creates opportunities for each student to become talented," he said.
Xiong Bingqi, vice-president of 21st Century Education Research Institute, said the curriculum reform of Beijing National Day School reduces the school's interference and grants more autonomy to students, which in return brings out more of their potential. But he still had concerns.
"Ostensibly, it seems that the successful experience of curriculum reform in Beijing National Day School, including the way that students select their own courses and move among classrooms to have classes with students of different grades, can be easily copied and followed by many schools across the country," he said.
"However, we should understand that reforming the curriculum alone is far from enough, and we also need to reform the way students are evaluated. If gaokao results still remain the only standard to evaluate students and select talent, the curriculum reform will not make much difference among schools nationwide."
The Ministry of Education understands Xiong's concerns.
Shen said the ministry is working on a draft plan to reform the college entrance examination and the post-exam recruitment, and the evaluation of students will focus on their overall quality.
"We are also setting new standards for high schools across the country to carry out their own curriculum reform," he said.
zhaoxinying@chinadaily.com.cn