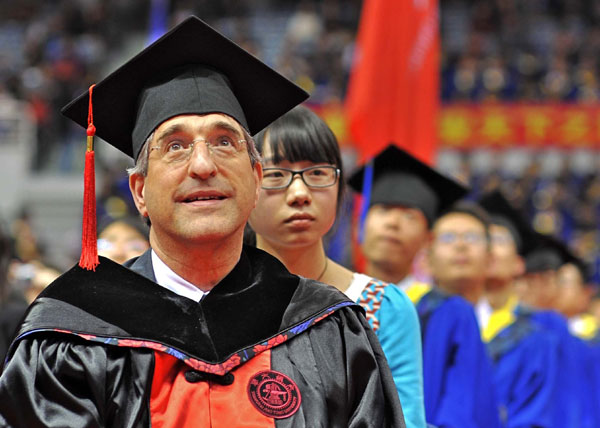 Peter Salovey, president of Yale University, attends commencement exercises for postgraduates at Shanghai Jiao Tong University on Wednesday. He was conferred with an honorary doctorate. Chen Zheng / for China Daily
Shanghai Jiao Tong University and Yale University established a joint research center in Shanghai on Wednesday that will focus on so-called translational medicine to benefit human health.
Translational medicine (or science) is a rapidly growing discipline in the biomedical and public health fields. It aims to expedite the discovery of new diagnostic tools and treatments by using a multidisciplinary, highly collaborative, "bench-to-bedside" approach.
It also deals with personalized medicine - medical solutions based on patient-specific conditions.
The SJTU-Yale Joint Center aims to lead the world in translational medicine research, striving for breakthroughs in cancer, cardiovascular disease and metabolic disease by translating laboratory findings into diagnostic tools, medicines, procedures, policies and education.
"For a country with a population of 1.3 billion, how to effectively improve public health is of great concern," said Zhang Jie, president of SJTU. "It's the joint center's core mission."
"Personalized medicine has great potential to help improve outcomes, and we should speed up progress in this field."
The immediate task for the center is to establish a research body for biological statistics, a pillar of translational medicine.
"Yale University has great strength in biomedical statistics, and the collaboration will help boost our level of application," Zhang said.
According to SJTU, complementary work will be carried out based on the partners' individual strengths. More basic research and laboratory work will be done at Yale, while SJTU will focus more on clinical practices.
SJTU is No 1 in the country for clinical medicine. The university has a rich database based on its 14 affiliated hospitals. In 2013, those hospitals received more than 26 million outpatients and 680,000 inpatients. They performed nearly 500,000 operations .
As part of the collaboration, the two universities will exchange staff for scientific research, education and talen cultivation. A doctoral program on biological statistics will be established within five years.
Meanwhile, various seminars and short-term courses will be given at the center, such as research design and data analysis.
The SJTU-Yale Joint Center is a good example of synergy, leveraging the expertise and high-quality resources of two important institutions. Their complementary work will provide a significant boost to translational medicine, Peter Salovey, president of Yale, said.
wanghongyi@chinadaily.com.cn