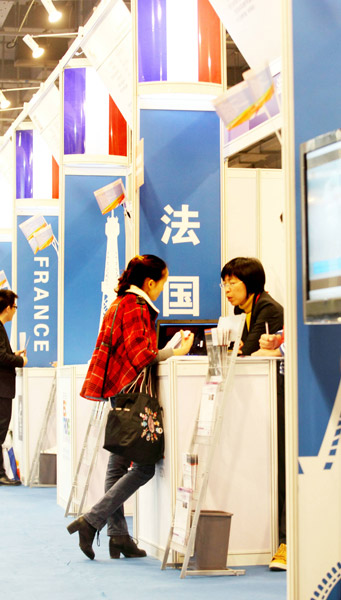 A student visits a booth for details on studying in France at an education fair in Beijing last year. [Photo by Lei Kesi/for China Daily]
International horizons have opened up for students sitting the national college entrance exam as an increasing number of overseas universities accept the exam's scores, according to educational analysts.
Millions of Chinese students sit the exam, also known as gaokao, every year but only a select few enter the top domestic universities.
"The situation has changed as more foreign universities accept that Chinese students with high gaokao scores are qualified to sit in world-class classrooms," said Zhang Feng, marketing manager for Australia and New Zealand projects at EIC Group, an overseas study consultancy.
Up to 60 percent of colleges and universities in Australia now accept gaokao results after the University of Sydney led the way in 2012, he said.
Students need to submit their gaokao scores, and if these are accepted, they have to satisfy English language proficiency requirements before enrolling.
For instance, the University of New South Wales launched its gaokao policy this year, with its entry requirements based on the percentage average of all attempted subjects in the exam.
Students from provinces with a maximum gaokao mark of 750, are required to achieve scores ranging from 600 to 660 (a range of 80 percent to 88 percent), to gain entry into the university's undergraduate programs.
The degree programs span the humanities, commerce and economics, actuarial studies, architecture, fine arts, media, engineering and science.
Li Baoli, Europe projects manager for EIC Group, said universities in France, Germany, Italy and Spain are also accepting gaokao students.
"The required scores for gaokao in many European universities are much lower than at top domestic universities," she said.
In a move to woo Chinese students, colleges and universities in those non-English-speaking nations have established degree programs in English, she said.
Analysts believe that accepting China's gaokao scores reflects intense competition for the crucial student yuan and closer cooperation between those universities and their Chinese counterparts.
"In France, scores for subjects in the gaokao exam, such as math, chemistry and physics, are used to judge the academic level of a Chinese student," Li said.
Alessandro Mariani, international affairs manager for China and Southeast Asia at the Paris Institute of Political Science, stressed the need for high grades.
"We are familiar with the education system of every country, for example the Chinese system, so we want our students to have high gaokao grades."
The institute, one of the most prestigious in France, has more than 450 Chinese students, making up 10 percent of its international students.
Gao Zhihang, a senior high school student from the Inner Mongolia autonomous region, said greater international acceptance of gaokao grades offers students a host of opportunities.
Gao, 17, planned to apply to the Universite Paris-Sud with his gaokao scores this year.
"For me, it is too early to make a decision on whether to aim for a college career in China or abroad since there is no extra entrance exam in applying to overseas universities. All I need to do now is to be fully prepared for the upcoming gaokao," he said.
Xiong Bingqi, vice-president of 21st Century Education Research Institute, said the upcoming education reform that removes the English test from gaokao will not impact on language skills for domestic students applying for overseas universities.
"Besides having to pass language tests for enrollment, such as the IELTS, Chinese students should also improve language skills for their future life overseas. Therefore, they will still devote themselves to studying foreign languages," he said.
Contact the writers at jinzhu@chinadaily.com.cn and lixiang@chinadaily.com.cn