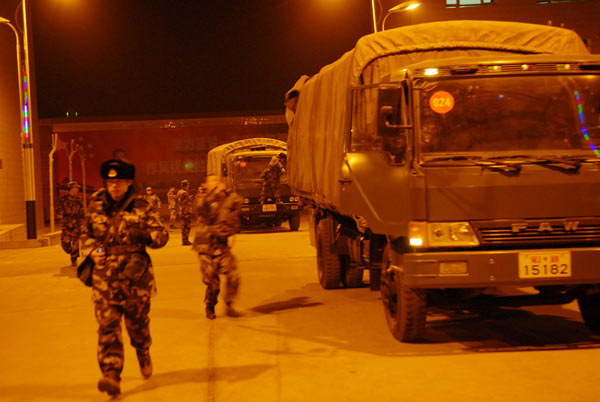 Local armed police soldiers in nearby county rush to the quake-hit area after a 7.3-magnitude earthquake hit Yutian county in China's Xinjiang Uygur Autonomous Region on Feb 12, 2014. [Photo/Xinhua]
URUMQI- A 7.3-magnitude earthquake hit northwest China's Xinjiang Uygur autonomous region on Wednesday, according to the China Earthquake Networks Center (CENC). No casualties have been reported. >>Live report
The epicenter, with a depth of 12 km, is located at Yutian county in southwest Xinjiang, or about 36.1 degrees north latitude and 82.5 degrees east longitude.
The quake was strongly felt by residents in Hotan, Yutian and Moyu.
Sixty-seven houses were toppled and more than 1,000 ones damaged to varying degrees, local authorities said, adding that 185 livestock deaths were reported.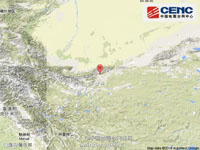 This screenshot from the official microblog of China Earthquake Networks Center shows the epicenter of a 7.3-magnitude earthquake that stroke Northwest China'sXinjiang Uygur autonomous region on Feb 12,2014.
Sections of railways were temporarily suspended in Xinjiang after the earthquake.
The railway administration of Urumqi suspended a section from Hotan to Moyu on the Kahe Railway, which links Kashgar and Hotan, for safety reasons, with a total of 531 passengers being stranded at Moyu.
Service resumed at 6:52 p.m. after safety and security checks.
A total of 143 aftershocks had been monitored as of 8:00 p.m. Wednesday, with the biggest one measuring at 5.7-magnitude at 5:24 p.m. in the same area.
President Xi Jinping and Premier Li Keqiang ordered concerted effort to guarantee safety and property and issued instructions on relief work soon after the quake.
Local authorities and departments were urged to check disaster situations, conduct emergency management and strengthen seismic monitoring.
The Ministry of Civil Affairs and the National Commission for Disaster Reduction also initiated an emergency disaster relief response and dispatched a work team to check the disaster situation and direct rescue work.
The epicenter is in a sparsely populated area with an average altitude of 5,000 meters. It is more than 50 km away from the nearest settlement, Aqqan village in Yutian County, and more than 900 km away from the regional capital of Urumqi.
Local residents said the houses near the epicenter are all quake-resistant and nomads are less likely in the mountainous areas, where the epicenter is located, during winter.
Xinjiang started a quake-resistant housing project in 2004.
The average altitude of the area within the scope of 30 km from the epicenter is about 5.1 km.
Experts from the CENC said that the area shares the same plate with Wenchuan in southwest China's Sichuan Province and Yushu in northwest China's Qinghai Province.
Wenchuan was devastated by an 8.0-magnitude quake in 2008, and Yushu was hit by a 7.1-magnitude quake in 2010.