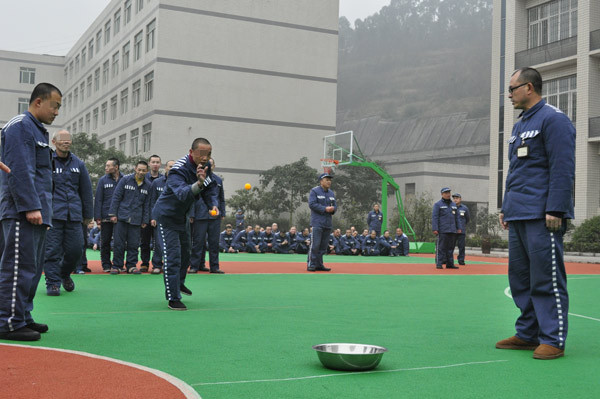 Chongqing Yongchuan Prison hosts celebrations of Lantern Festival on Feb 11, 2014. [Photo provided to chinadaily.com.cn] 
A Chongqing prison hosted activities on Feb 11 for inmates to celebrate Lantern Festival.
Activities began at 9 am on the basketball court in Yongchuan Prison in Chongqing. Inmates participated in various activities including soccer, bowling, basketball and fishing.
"It's the Chinese New Year, the holiday makes people homesick. I miss home for sure. But the prison has hosted many activities, making me feel close to my family and society. I feel less lonely," said inmate Li Hu (not his real name), adding that the prison has arranged activities from the first day of the Chinese New Year until Lantern Festival.
The Lantern Festival falls on Feb 14 this year.
Yongchuan Prison in Chongqing hosts many activities for inmates in the hopes of helping them improve themselves.
Lu Yang contributed to this story.