It is a tradition among new Chinese mothers to hire a confinement nurse after giving birth to a child. And the new family-planning policy is expected to boost the job market for such nurses.
Cui Jingwen, general manager of Baby Care & Education Co Ltd, a Beijing-based maternity agency, plans to expand her chain stores to provincial cities across the country within five years. Currently, 80 percent of the company's business is in Beijing.
The company had planned to boost hiring of confinement nurses by 30 percent this year before the State Family Planning Commission announced the new family planning policy. But now, she said, "our expansion plan now will hire 50 percent more confinement nurses".
Founded in 2000, the agency has a stable of about 1,000 confinement nurses on its roster, and its clients now total around 500.
"About one-third of our clients said they are planning to have a second child," Cui said. "Another third said they won't consider having a second child due to the high costs of childrearing, and the rest have yet to make a decision."
The average cost of hiring a baby nurse for a month in Beijing runs between 8,000 ($1,312) and 9,000 yuan, while in second- or third-tier cities, it's about 3,000 yuan, Cui said.
But the price has been rising over the past few years.
Wang Ying, the mother of a 3-year-old boy, said the cost of hiring a nurse has climbed 50 percent in three years.
"At the beginning, the cost of a nurse baby-sitting and teaching my baby was about 5,000 yuan," she said.
Cui's company generated an annual revenue of between 40 million and 50 million yuan last year, up more than 50 percent compared with the previous year.
"The latest loosening of the family-planning policy won't have an immediate and obvious effect on the confinement nurse market, but as time goes on, the market size will grow along with the increasing number of newborns," said Yan Miao, a maternal and infant industry analyst with Beijing S&P Information Consult Co Ltd.
In addition, the market will become more mature and better regulated, Yan said.
Indications of this trend can be seen in the rising popularity among potential confinement nurses of getting a professional certificate, Yan said.
"The proportion of our employees with an educational background of junior college has risen from 2 percent to 10 percent over the past few years," said Cui, adding that more and more female university graduates are changing their views about this profession, and are becoming more willing to be involved in the industry.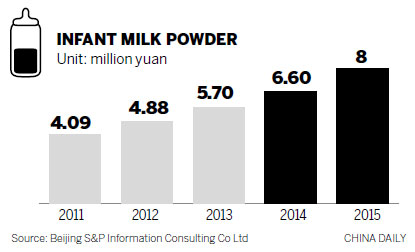 (China Daily 01/02/2014 page17)