Trending news across China on Sept 13
Can you guess how much Yao Ming is worth? And watch out, the train ticket scam website is back - it's all trending across China.
Yao Ming
Yao Ming is a world famous basketball player, but did you know that he is an excellent businessman as well? The total value of Yao Ming's asset has been valued at more than 3 billion yuan, Chongqing Evening News quoted a Chinese financial magazine as saying. Yao is said to be good at making investments by financing, making full use of his influence.
Narrow lanes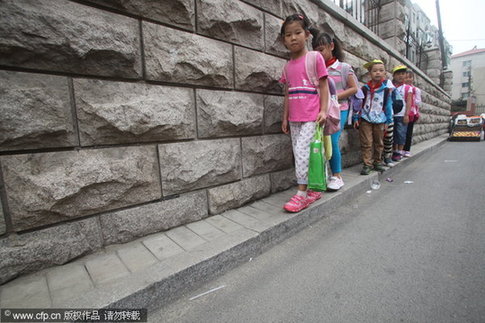 What is the width of the narrowest side pavement in your mind? One side pavement in Jinan, provincial capital of Shandong, is only 0.2 meters in width and can even hardly allow the passing of pupils, according to a report on People's Daily online. Is that a side pavement or a single-plank bridge? Many people asked.
Ticket scam
The coming of two Chinese festivals, the Mid-Autumn Festival and National Day, has once again seen the return of the phishing website pretending to be 12306.net, the official train ticket selling website. According to a report of Chengdu Evening News, those phishing websites usually don't support real-time remote inquiry and people can log in with any user names and passwords. Experts warn people should avoid clicking search results of search engines directly.
Average houses
While Chinese are estimated to enjoy an average household of about 36 square meters, the family of deputy secretary of Changchun health bureau is reported to have houses as large as 9,000 square meters and she along enjoys a 1100-square-meter house. The deputy secretary confessed to The Time Weekly that it's true that she has large houses, but she insisted that all of her property and income are legal.
Bianmin arrest
A well-known Internet user with a screen name of Bianmin was arrested for falsely reporting registered capital, Southern Metropolis Daily reported. Bianmin is considered as a network opinion leader. He was once active in the hide-and-seek event, in which a man claimed to have died because of the injuries he suffered when playing hide-and-seek game in a detention house.

Editor's picks

Copyright 1995 - . All rights reserved. The content (including but not limited to text, photo, multimedia information, etc) published in this site belongs to China Daily Information Co (CDIC). Without written authorization from CDIC, such content shall not be republished or used in any form. Note: Browsers with 1024*768 or higher resolution are suggested for this site.
Registration Number: 130349