Flight team performs first show abroad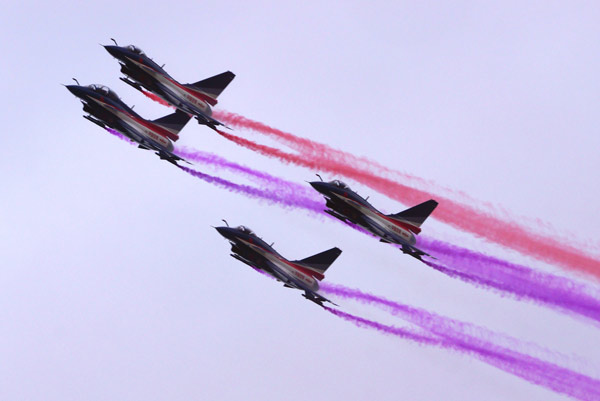 The People's Liberation Army's August 1st Aerobatics Team performs at the MAKS-2013 air show in Zhukovsky on Friday. SHEN JINKE / FOR CHINA DAILY
The August 1st Aerobatics Team, China's first and best-known aerobatic demonstration team, performed its first show abroad in Moscow on Friday.
Six J-10 multi-role fighter aircraft performed a 20-minute stunt show in front of thousands of spectators at the MAKS-2013 air show at Ramenskoye Airport.
The 11th international air show opened on Tuesday and will conclude on Sunday.
The jets from the People's Liberation Army Air Force performed various formations and staged a flyover, a ceremonial aerial salute, using colored smoke trails.
However, the team's most complicated maneuvers, including bomb burst, were not performed due to poor visibility caused by fog and clouds.
Colonel Cao Zhen, commander of the team, told PLA Daily that its pilots have choreographed and practiced 21 maneuvers specifically for Ramenskoye Airport and the team has three show plans for different weather conditions.
"I blame the unfavorable weather as the reason why the team didn't display more sophisticated maneuvers," said Wang Ya'nan, deputy editor-in-chief of Aerospace Knowledge magazine. "Even if the pilots performed the maneuvers, people would not be able to see them because a lot of them are conducted at high altitudes."
Therefore, he said, pilots had to choose routines that could be performed at low altitudes and low speeds.
"It's also their first overseas show, so I think the team picked maneuvers they are most familiar with to be 100 percent assured," Wang explained.
He said complicated maneuvers can be expected in the next two days as long as the weather is good.
The team, named after the date the PLA was founded, has presented more than 500 shows for 668 delegations from 166 countries and regions, but the Moscow tour marks the team's first show abroad, according to the Defense Ministry.
When the team was established 51 years ago, it flew J-5 fighters and has been gradually updating the aircraft fleet.
The domestically built J-10 fighters made its debut in 2008 at the 7th China International Aviation and Aerospace Exhibition.
In addition to the August 1st team, China has two other aerobatic demonstration teams: Sky Wing and Red Falcon.
Both were formed in 2011 and belong to two flight-training institutes of the PLA Air Force.
Colonel Yang Yujun, spokesman for the Defense Ministry, said that the August 1st team will stage more shows in China and foreign nations in the future, indicating the PLA has dispelled its long-held concern on sending military units to overseas defense shows.
The team's next show abroad, upon PLA approval, will be at the biennial air show in Dubai, United Arab Emirates, in November, Wang said.
"Two major factors that could influence the air force's decision on which show to participate in are geopolitics and the J-10's flight range," Yang said.
In addition, the J-10 has a promising prospect of export, and some of its potential buyers are likely to come from the Middle East, where the Dubai show takes place.
"It's an ideal occasion for Chinese aerobatic pilots," Wang added.
zhaolei@chinadaily.com.cn

Editor's picks

Copyright 1995 - . All rights reserved. The content (including but not limited to text, photo, multimedia information, etc) published in this site belongs to China Daily Information Co (CDIC). Without written authorization from CDIC, such content shall not be republished or used in any form. Note: Browsers with 1024*768 or higher resolution are suggested for this site.
Registration Number: 130349