Caution urged in online reporting of violence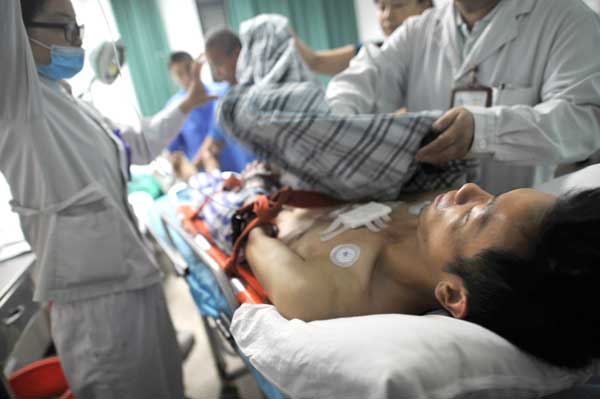 A man who was stabbed in a multiple attack in Chengdu is transferred to a larger hospital for treatment on Sunday night. Hua Xiaofeng / for China Daily
Experts have called on netizens to be more cautious in reporting acts of extreme violence after two violent crimes on buses took place within a week, killing seven and injuring more than 20.
Four people are dead and 11 more in hospitals as of Monday in the aftermath of a multiple stabbing on Sunday in Chengdu, Sichuan province.
A man stabbed passengers on a bus and then continued his rampage after getting off in Chengdu.
Police said the man may have committed the attacks because of financial problems and the long-term stress of working away from his hometown.
4 dead, 11 injured in multiple stabbing
Witnesses of the multiple stabbing in Chengdu on Sunday night said the attacks were brutal.
After a bus on the No 42 route left a stop in downtown Chengdu at about 9 pm on Sunday, a middle-aged man took out a knife about 20 centimeters long and began stabbing passengers arbitrarily, footage from the bus camera showed.
The driver stopped the bus and opened both doors to allow passengers on board to flee. As the suspect fled, he also stabbed passersby.
Holding a mop, the bus driver chased the man, and some people in the street tried to stop him.
A few minutes later, policemen arrived at the scene, near Caojiaxiang Police Substation, and fired shots into the air in an attempt to subdue the suspect.
When that failed, a policeman shot the man in his right leg, disarmed and arrested him.
"Although it is about 300 meters from where the bus stopped, casualties were heavy," said Yang Fuqing, a nearby bicycle repairman.
Yang saw a short man with closely cropped hair and wearing a red T-shirt stab the chest of a woman walking with her husband and then the stomach of a 10-year-old walking with her nanny. The man also stabbed the stomach of Yang's 51-year-old uncle Yang Zeyun who stood beside him.
The woman later died in a hospital, as did three other victims.
Together with one man and woman in their 20s, the pupil, Zhu Qi, and Yang Zeyun are in intensive care units on the fourth floor of the No 416 Hospital of the China National Nuclear Corporation, said a medic at the hospital surnamed Fan.
"Zhu Qi's spleen was removed. None of the four is out of danger," she said.
According to the city's emergency center, which sent all the victims to hospitals, the other seven victims being treated in four other hospitals were severely wounded.
- Huang Zhiling
Police confirmed that the suspect, surnamed Li, 41, is a native of Jintang, a suburban county under the administration of Chengdu.
Li has long worked outside his home county. He left Xichang, the capital of the Liangshan Yi autonomous prefecture in Sichuan, where he worked on Thursday evening and returned to his home in Jintang on Saturday. At noon the next day, he arrived in Chengdu.
"The man is in discord with his family over economic issues," said Xiong Dezhuang, an information officer with the city government.
Within a week, the country has witnessed two similar incidents in which suspects have stabbed innocent bystanders.
On Aug 19, Zhou Jiangbo, a 24-year-old farmer from Huangxian county, Henan province, killed three people and injured 12 on a bus in Anyang.
The deceased were a 10-month-old girl and two boys, 10 and 17 years old.
The Sunday incident in Chengdu may have been carried out in imitation of the Anyang attack, said Ma Ai, a professor of criminal psychology at China University of Political Science and Law.
Reporting on acts of extreme violence is a "double-edged sword", Ma said, explaining that reports may spark copycat attacks by people with psychological problems. But at the same time, the public needs to be kept informed of events.
"While acts of extreme violence cause great social pain, the more attention people and media attach to them, the more likely it is that they will be imitated," Ma said.
"The heavy-handed way the public called for a crackdown works in preventing imitations in a way," Ma said, "but we still don't have very good methods to prevent them."
The detailed descriptions provided by online social media may encourage copycats, said Ding Junjie, vice-president of the Communication University of China.
Some people may feel encouraged by the description of details, combined with a strong heroic tone, Ding said.
While Ding supports "enacting a law to advocate civilized dissemination" as one way of dealing with the problem, he said it will be some time before change occurs.
"We should try to solve the hidden problems, mainly social conflicts, behind the extreme violence, which come before and are the roots of the imitations," he said.
Lin Bingxian, a researcher at the China University of Political Science and Law, said the country should make mental health knowledge more accessible to citizens, especially juveniles.
"If China cannot reach the standards of having one psychiatric consultant for each 1,000 people like developed countries do, we should at least have one consultant for every 10,000 citizens," he said.
Contact the writers at huangzhiling@chinadaily.com.cn and houliqiang@chinadaily.com.cn
Xinhua contributed to this story.

Editor's picks

Copyright 1995 - . All rights reserved. The content (including but not limited to text, photo, multimedia information, etc) published in this site belongs to China Daily Information Co (CDIC). Without written authorization from CDIC, such content shall not be republished or used in any form. Note: Browsers with 1024*768 or higher resolution are suggested for this site.
Registration Number: 130349