Suspect arrested in deadly bus attack
A man suspected of killing three people and injuring 12 others on a bus in Anyang, Henan province, was arrested on Tuesday afternoon, local police said.
Zhou Jiangbo, 24, was apprehended at about 1 pm, nearly 24 hours after the attacks.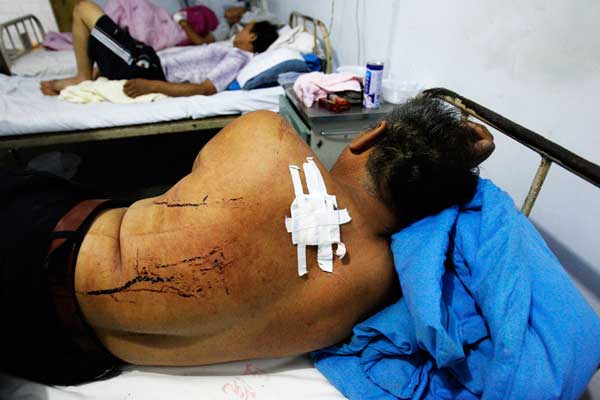 A stabbing victim receives treatment in a hospital on Tuesday morning after being attacked by a man in a bus in Anyang, Henan province, on Monday. The attacker killed three minors, and 15 other people were injured. Police have arrested a suspect and are using his DNA to confirm his identification. A witness said nearly half the passengers on the bus were injured. Xiang Mingchao / China Daily
Ma Jian, a media officer in Anyang, said police were tipped off about Zhou's whereabouts by someone who recognized the suspect as he bought food.
Police said that Zhou, carrying a knife and wearing a blood-stained shirt with blue squares, was seen fleeing the scene on Monday afternoon after passengers were stabbed on a fully loaded bus bound for Beiguo, a suburb of Anyang, on Monday afternoon.
A 10-month-old girl and two boys, 10 and 17 years old, were killed.
Li Zhen, an emergency physician at Anyang No 2 People's Hospital, said four passengers with knife wounds are being treated at the hospital and are all in stable condition.
"Fifteen injured passengers were sent to us (on Monday) afternoon. There were two who had no signs of life when they arrived at the hospital, while several others whose spinal columns were injured were transferred immediately to another hospital for better treatment," he said.
Li Fenliang, 53, witnessed the sudden tragedy on the bus.
He said more than 30 passengers were on board when the attack occurred, and the attacker injured almost half of them, including Li.
"I didn't notice when the man got on the bus. Then he was holding knives and started stabbing passengers all of a sudden without saying anything," he said.
Zhang Mengmeng said she was so shocked, she didn't even realize her back was injured while she was trying to run away from the attacker.
"I was sitting on the left next to a window. The bus suddenly stopped, and everyone started to run wildly. Passengers standing near the front door jumped off the bus, while those in the rear were running toward the back," the 22-year-old woman said.
Wang Yuanyuan would have been sharing her joy at home about being admitted to college, but now the 17-year-old student is a victim of the attack, fighting for her life in a hospital.
Wang's father, who declined to give his full name, said his daughter picked up the college admission letter that day and was wounded on the way home.
The letter, showing the girl was enrolled as an English major at the Henan Institute of Science and Technology, is soaked in blood.
"I received a phone call from my daughter yesterday, and she told me she was attacked on a bus. I haven't heard from her since then, when she was taken to the intensive care unit," said Wang, who returned home immediately from nearby Shanxi province after hearing the news.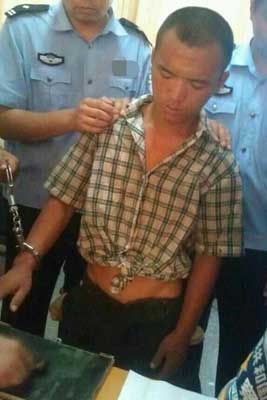 The suspect, Zhou Jiangbo, was caught by police on Tuesday. provided to china daily

Editor's picks

Copyright 1995 - . All rights reserved. The content (including but not limited to text, photo, multimedia information, etc) published in this site belongs to China Daily Information Co (CDIC). Without written authorization from CDIC, such content shall not be republished or used in any form. Note: Browsers with 1024*768 or higher resolution are suggested for this site.
Registration Number: 130349