Aircraft carrier replica model scuttled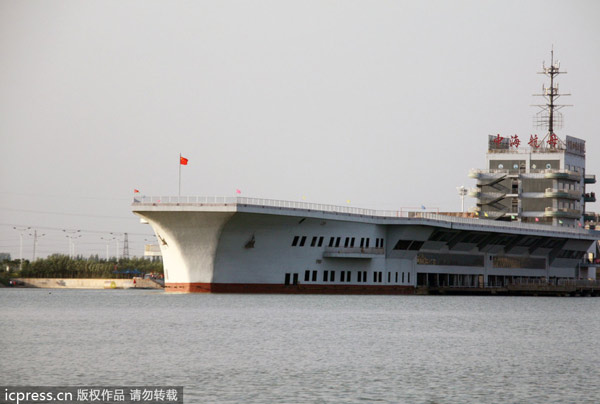 A full-size replica of the USS Enterprise aircraft carrier is seen in Binzhou, East China's Shandong province on this file photo taken on August 3, 2008.[Photo/icpress.cn]
A lookalike of China's aircraft carrier has been abandoned in Shandong province, leaving the multimillion investment nothing but concrete rubble.
The giant building, a full-size replica of USS Enterprise, was designed as an entertainment complex in Binzhou, carrying the ambitions of the unknown coastal city.
A total of about 120 million yuan had been thrown into the project since the construction started in 2003. Five years later it opened for business as the iconic landmark of the city.
The money-burning project was contracted to government-backed companies, including an entertainment company which runs the complex. Ji Zaizhen, former deputy chief of the local tourism department, is a senior executive of the company now, according to China Youth Daily.
The local government offered preferential policies to attract retailers, making the complex a popular leisure spot among curious locals during holidays.
The building started to lose its charm in 2010 when the local government they had shifted their attention to other projects and the curiosity from the locals faded.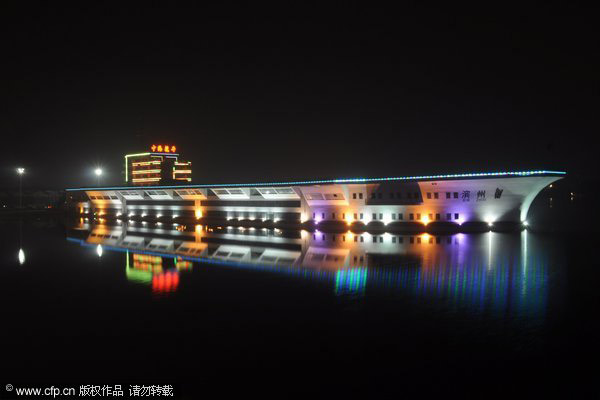 A full-size replica of the USS Enterprise aircraft carrier is decorated with colorful lights at night in Binzhou, East China's Shandong province on this file photo taken on Sept 30, 2010.[Photo/icpress.cn]

Editor's picks

Copyright 1995 - . All rights reserved. The content (including but not limited to text, photo, multimedia information, etc) published in this site belongs to China Daily Information Co (CDIC). Without written authorization from CDIC, such content shall not be republished or used in any form. Note: Browsers with 1024*768 or higher resolution are suggested for this site.
Registration Number: 130349