Sex video official sentenced to jail in Chongqing
CHONGQING - A former official embroiled in a sex video scandal was sentenced to 13 years in jail for bribery on Friday morning in Southwest China's Chongqing municipality.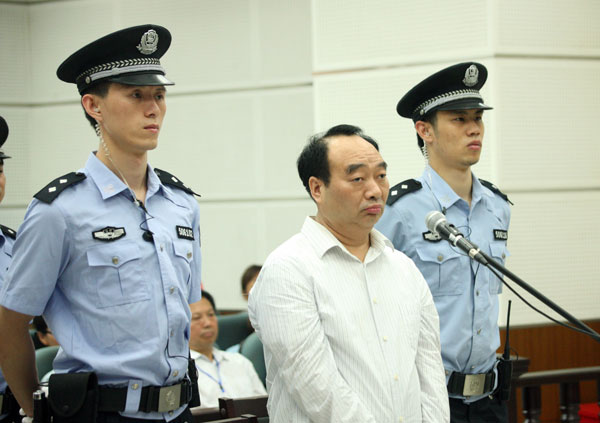 Lei Zhengfu, a former official of Chongqing's Beibei district, stands trial on June 19 in a court in the city. [Photo/Xinhua]
Lei Zhengfu, former secretary of Chongqing's Beibei District Committee of the Communist Party of China (CPC), was also fined 300,000 yuan ($48,554), according to the Chongqing No 1 Intermediate People's Court's ruling.
Lei took advantage of his position and provided help to local companies in exchange for bribes from March 2007 to November 2012, according to a statement from the court.
Lei asked a businessman surnamed Ming for 3 million yuan in February 2008 after being blackmailed by Xiao Ye, a man who conspired with others to lure officials into having sex with women and secretly recorded their trysts in order to blackmail them.
The court believed Lei asked Ming to lend the money to Xiao to avoid the release of his sex video, despite knowing that it was a case of extortion. Lei also accepted the fact that Ming decided not to claim repayment after Xiao refused to return the money, the court said.
Although Lei asked Xiao to return 1 million yuan to Ming's company in November 2010, the court believed that this did not affect Lei's acceptance of bribes.
Lei also received $10,000 and a watch from a businessman surnamed Yin at the cost of securing support funds for Yin's company in July 2011, although Lei later surrendered the watch to the office of the Beibei District Committee of the CPC, the statement said.
At the beginning of 2012, Lei helped a doctor surnamed Fan obtain a promotion at a hospital in Chongqing, with Lei's wife receiving 100,000 yuan from Fan later with Lei's permission, the court said.
The court said Lei used his position to obtain benefits for others and accepted bribes totalling more than 3.16 million yuan. His activities constituted the crime of bribery, it said.
Lei said he would consult his lawyer and consider the possibility of an appeal.
The 55-year-old was found to have appeared in a sex video that was posted online in November. He was subsequently removed from his post and detained by police on February 1. In early May, Lei was expelled from the CPC.