Vagrant story revealed as false
Two reporters apologized on Wednesday for fabricating a heart-warming story of a young woman feeding an elderly street vagrant earlier this week.
"I did not carefully fact check the story, and did not fulfill my responsibilities as a journalist," said Chen Xiaohong, author of the fake report titled, "Shenzhen girl feeds ragged man" that appeared on chinanews.com on March 25, in a statement published by the news portal.
The photographer, using the moniker "Jinquanshaoxia" instead of his real name, also made a public apology for the gaffe. However, he defended his intentions by stating it was a move to, "arouse the conscience of society."
The photo of Wen Fang, a 22-year-old from Hunan province feeding a homeless man on the street in Shenzhen, Guangdong province became an online sensation after it was published on March 25. The story also claimed the young woman tried to help the man find his family.
The portal said it has reprimanded those responsible for the fake news report.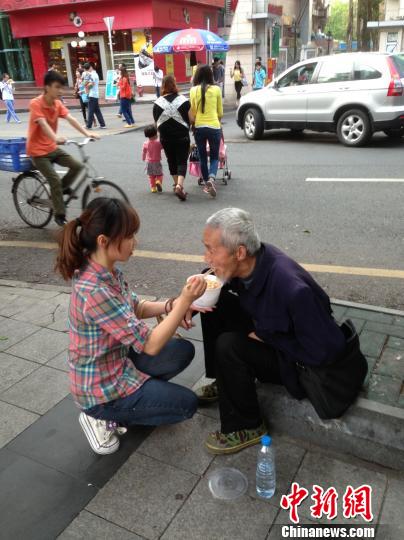 The story of Wen Fang, a 22-year-old from Hunan feeding a homeless man on the street in Shenzhen, Guangdong province was revealed as false. [Photo/chinanews.com]