Premier points the way for farming
By CANG WEI in Changshu, Jiangsu and ZHENG YANGPENG in Beijing | China Daily | Updated: 2013-03-29 01:44




Agricultural modernization can help drive economic growth, Li says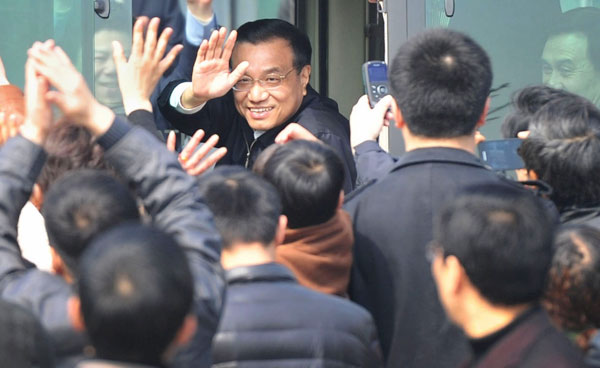 Premier Li Keqiang is greeted by well-wishers as he visits a farm in Changshu, Jiangsu province, on Thursday. Li is on an inspection tour of the Yangtze River Delta. Photo by You You / For China Daily
Making his first research tour since becoming premier, Li Keqiang highlighted agricultural modernization on Thursday, describing it as one of the main engines to drive China's development.
Li visited a farm in Guli, a town in Changshu city, Jiangsu province, after touring a garment factory in Jiangyin.
He was shown new developments in urbanization in which farmers' communities transformed themselves into communities in an urban setting with members conceding their farm plots to specialist farmers.
Li welcomed them as both new urban residents and new farmers, saying if they make a good effort in building their communities, small-town life can be easier and more convenient than living in big cities.
In the wheat fields of Guli, he told local residents "the earth can yield gold" if only there are policies to motivate farmers to grow more. "Farmers should not only be encouraged to produce more grain, but also to produce higher quality grain," he said.
But producing more is impossible on small plots, Li said. "It can only be done through concentrating the land into larger farms."
In the past 10 years, about 450 hectares of Guli's farmland has been transformed into larger farms under the management of professional cooperatives.
Li said agricultural modernization will help power China's change together with urbanization, industrialization and use of information technology.
Xi Jian, an official from the local government in Changshu, said: "The crop yield has increased rapidly through the adoption of large and modern machinery, which can be put into use following the transfer of land."
According to the local government, the value of agricultural output in Changshu reached 6.27 billion yuan ($1.01 billion) in 2012, up 10.5 percent on the previous year.
The local government plans to develop 10 large agricultural cooperatives and five service centers to repair farm machinery.
Song Hongyuan, a researcher with the Research Center for Rural Economy, affiliated with the Ministry of Agriculture, said Li's words echoed the theme of the No 1 document released this year by the Central Committee of the Communist Party of China.
The document called for improving agriculture's economy of scale, encouraging more large farms and professional farmers, and fostering various types of farming cooperatives.
Song said the government encourages the transfer and concentration of farmland only on the condition the land will continue to be used for agricultural production, and that related rules should be strictly enforced.
He said the government must heighten vigilance against the use of farmland for non-agricultural purposes, adding that all legal land transfers should be done on a voluntary basis by farmers.
Observers said Li demonstrated an "easy and accessible" style during the research tour. No traffic restrictions were imposed and no areas were cordoned off, as on previous official visits.
Contact the writer at cangwei@chinadaily.com.cn