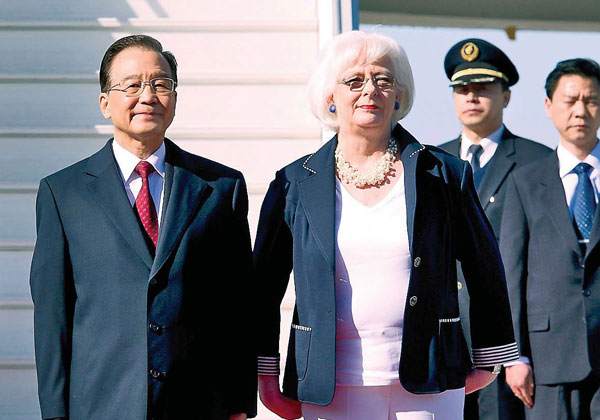 Chinese Premier Wen Jiabao is welcomed by Icelandic Prime Minister Johanna Sigurdardottir upon his arrival in Reykjavik, Iceland, on Friday. [Photo/Xinhua]
Ossur Skarphedinsson, foreign minister of Iceland, had long wondered about one thing–how come the Chinese, in epic expeditions by explorer Zheng He of the 15th century, managed to travel around the globe but somehow missed his home country.
There was no stronger proof of a contrary trend on Friday, as he inked his name on one agreement after another with the world's second-largest economy in Reykjavik, in the attendance of the Icelandic Prime Minister and visiting Chinese Premier Wen Jiabao.
The deals Skarphedinsson signed on behalf of the Icelandic foreign ministry ranged from furthering arctic cooperation to joining hands in marine and polar science and technology, as well as collaboration on geothermal energy and geosciences.
Wen, the first Chinese premier to visit the volcanic island since Beijing and Reykjavik forged diplomatic ties in 1971, told Iceland's Prime Minister Johanna Sigurdardottir that the country will strive to achieve bilateral free trade by next year.
China is, in other words, willing to push forward negotiations toward a free trade agreement (FTA) with Iceland and is confident about Reykjavik's development, Wen said.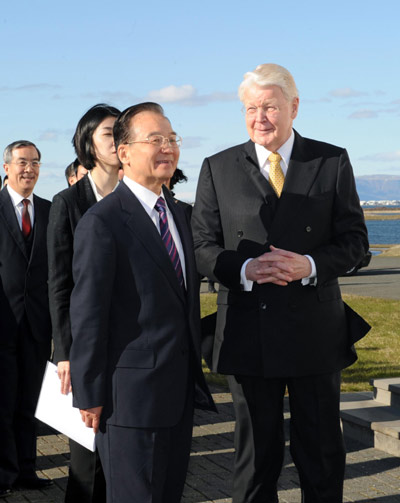 Chinese Premier Wen Jiabao and Icelandic President Olafur Ragnar Grimsson meet in Iceland's capital Reykjavik on April 20, 2012. [Photo/Xinhua]
Iceland was the first European country to start FTA talks with China. Hard hit by the financial crisis in 2008, Iceland, a country of just 320,000 people, turned to apply for EU membership the next year. As per policy requirement, it stopped free trade talks with Beijing.
But recent fishing disputes and the European Commission's involvement in a multilateral legal dispute concerning Iceland have placed pressure on Iceland to review its accession talks with the EU and resume FTA negotiations with China.
Sigurdardottir, Iceland's Prime Minister, said the country sees China as "a reliable friend" and applauds Chinese support in its measures against the economic meltdown.
Iceland supports China to be an observer to the eight-member Arctic Council and take part in the peaceful exploitation and utilization of the Arctic, she said.
In his meeting with Icelandic President Olafur Ragnar Grimsson later Friday, Wen said Beijing and Reykjavik share broad common interests, and that China is willing to beef up coordination with Iceland in Arctic affairs.
Grimsson, for his part, called Wen's visit a milestone in bilateral relations and hoped that the two countries could seal the FTA deal as soon as possible.
The Chinese Premier, who spent years studying geology and working in a provincial geology bureau, will visit regions between the North American and Eurasian tectonic plates, the Golden Falls and a volcanic geyser on Saturday before having brief conversations with experts at the Hellisheidi geothermal plant.
Wen will wrap up his visit to Iceland on Sunday and head to Germany to attend the upcoming Hannover Messe, the world's leading industrial fair.
Contact the writer at huyinan@chinadaily.com.cn