Mentally ill woman survives fall from 5th floor
A woman suffering from mental dissociation escaped death after falling from a fifth floor window, thanks to windows and electric wires below, in Shanghai on Thursday.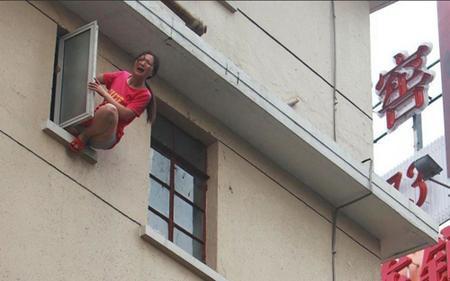 A woman grabs a window frame on a fifth floor of a building in Shanghai's Luwan district, July 21, 2011. [Photo/ynet.com]
The incident happened at a residential building in Shanghai's Luwan district about 2:20 pm Thursday, when the woman was spotted crouching from the window on the fifth floor, grabbing the window frame and yelling, "Somebody is going to kill me!" although no one was near her.
Crowds tried to calm her down, but to no avail, as the woman lost her grip on the window and fell straight down.
To the pleasant surprise of the onlookers, her body hit an open window on the fourth floor and then was hindered by some electric wires at the second floor level, and landed on the ground with apparently no serious injuries.
She even stayed conscious enough to speak to family members, who sent her to the hospital.
One family member told Youth Daily that the 29-year-old had been diagnosed with mental illness, and had been behaving oddly.

Editor's picks

Copyright 1995 - . All rights reserved. The content (including but not limited to text, photo, multimedia information, etc) published in this site belongs to China Daily Information Co (CDIC). Without written authorization from CDIC, such content shall not be republished or used in any form. Note: Browsers with 1024*768 or higher resolution are suggested for this site.
Registration Number: 130349