Sixty-four-year-old archaeologist Chen Chunsheng finds pleasure not in writing research papers, but singing Russian songs in a choir.
He shares his passion with 40 other members, aged mostly in their 50s and 60s. The group met through a Russian singing group in Jingshan Park in Beijing. In 2006, they formed a smaller group "Friends of Russia" and made it a routine that they practice singing twice a week in residential activity centers.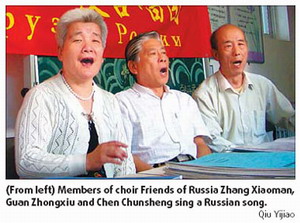 "It is the happiest moment in the whole week. I forget all trivial matters and these beautiful songs remind me of the memories of being young," Chen says.
The choir is preparing individual as well as group performances for the "Chinese Singing Russian songs Competition" at the end of June, one of the highlights in China's 2009 "Russian Year" celebrations.
The Russian language is not difficult for Chen. He learned Russian for nine years at high school and university. "We all know Russian, at least at beginner's level because it was the only foreign language we spoke in our times," he said.
Songs picked for the competition include Katyusha and The Sacred War, written during the World War II. Chen has been familiar with these songs for half a century.
"Our teachers taught these songs in the 1950s, I think people at my age can sing these songs quite well," he said.
The Russian songs were popular not only because they were exotic but also because both China and Russia were invaded during World War II and the songs brought out "a patriotic feeling", said Zhang Xiaoman, who is retired from the China Democratic League and is now the head of "Friends of Russia".
"Our generation is greatly influenced by Russian music and also literature; these accompanied us when we grew up." Zhang said she read Russian novels everyday when she was in high school.
She starts to take a lead in singing Moscow Suburbs' Night and the other choir members quickly pick up the song. "Every song is like an oil painting. I close my eyes when I am singing and try to imagine the grand landscape," Zhang said.
Apart from the classics, the group also enjoys singing newly released songs. The one they are learning now is from a Russian movie in 2006. Zhang noted down the tune and lyrics and added it to their 120-page collection of Russian songs.
The group has covered 140 songs in three years. Zhang and Chen instruct the other members on pronunciation and explain the meaning of a new song.
"We were inspired when we sang Russian songs in our 20s, and now it has become a way to relax and help us feel fulfilled," said Guan Zhongxiu, a member of the choir.