The inaugural BRIC (Brazil, Russia, India and China) summit held in Russia Tuesday is important not for marking the first formal gathering of the world's biggest emerging market powers to seek a louder voice on the global stage. It is the high hope that closer cooperation among these four may help the world fight recession that makes this summit of particular significance.
The term BRIC has gained increasing currency since it was coined by Goldman Sachs economist Jim O'Neill in 2001 to describe the growing power of emerging market economies.
With a combined GDP accounting for 15 percent of the US$60.7 trillion global economy, the four BRIC nations are projected to be among the six largest economies in 2050 if the four of them can properly maintain policies and develop institutions that are supportive of growth.
The huge growth potential of BRIC becomes even more important at a time when the world is caught in the worst recession in many decades. If they can develop quickly to be a new engine of demand growth and spending power, the world economy will have a much better chance of stepping out of the current crisis sooner than expected.
However, optimism alone doesn't qualify as strategy. Concrete and coordinated efforts among the four nations are essential for translating their growth potential into reality.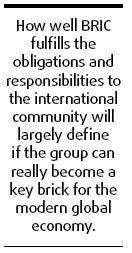 Therefore, consensus should be broadened and mutual trust enhanced to help each of the BRIC countries overcome the tough challenges they face for keeping growth on track.
It is in this sense that the first BRIC summit is more than needed.
While sharing a common prospect for high growth, the four nations have rather different economic styles that demand divergent development policies.
Nevertheless, to address immediate problems like the ongoing global financial and economic crisis as well as long-term issues like climate change and energy security, the four countries have enough room to work together and achieve a lot.
It is believed that the importance of BRIC will not be decided by the sheer size of their economies and their population.
At a moment when a global crisis is rapidly reshaping the political and trade geography of the world, how well BRIC fulfills the obligations and responsibilities to the international community will largely define if the group can really become a key brick for the modern global economy.
(China Daily 06/17/2009 page8)