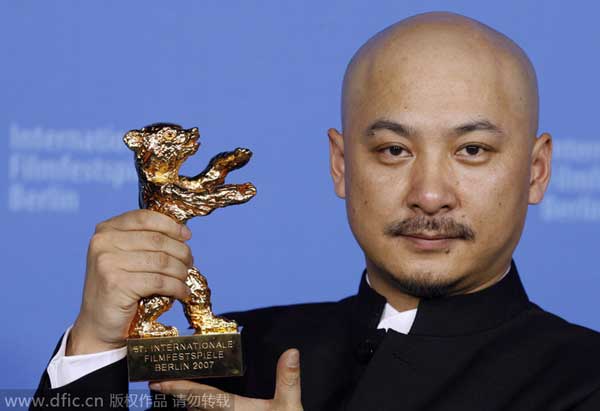 Chinese film director Wang Quan'an shows his Golden Bear award for the best movie at the 57th International Film Festival Berlin 'Berlinale' in Berlin for his movie "Tuyas Marriage." Beijing police say they have detained Wang on a charge of prostitution. Police said in a statement Monday, Sept 15, 2014. [Photo/IC]
Golden Bear-winning film director Wang Quan'an 's sex scandal has drawn 68 million viewers on Sina Weibo since last Thursday and his wife's following post on Monday has been forwarded more than 17,000 times and won almost 45,000 comments.
He is the latest celebrity to fall foul of a broadening morality crusade in the Chinese entertainment business.
Wang, 48, from Shaanxi province, was caught having sex with a 31-year-old prostitute from Heilongjiang province on Sept 10 in an apartment in Beijing's Dongcheng district, according to the Beijing Public Security Bureau. Both are said to have admitted their guilt.
Most Weibo users condemned what Wang did, while others started heated discussions about the fragility of marriage. Some urged people to mull over the current prostitution issue and the possible ways to deal with it.
Li Yinhe, renowned Chinese sociologist and sexologist, raised three questions on Weibo, saying that "From these celebrities' scandals, one cannot help but wonder how big the sex trade market is in China and if the measures we have been taking have real effects. Most importantly, should we look for examples from countries such as the Netherlands and Germany to improve our own regulations?"
In the entertainment business, this has gone hand-in-hand with a crackdown on vice and drugs. After Jaycee Chan's, and several other high-profile celebrity arrests, many leading film and TV companies pledged not to hire stars involved in prostitution, gambling or drug abuse.
Last month, Chan, son of veteran Hong Kong action star Jackie Chan, and Taiwanese actor Ko Chen-tung were caught smoking marijuana at a foot massage parlor in Beijing.