Bieber apologizes for late UK show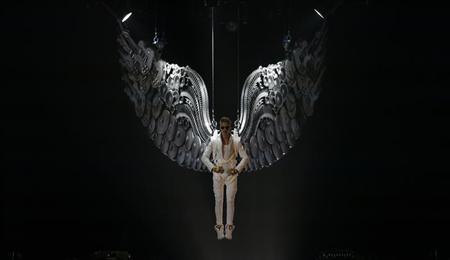 Canadian singer Justin Bieber performs in a concert at the Manchester Arena in Manchester, northern England, February 21, 2013. [Photo/Agencies]
Canadian singer Justin Bieber apologized on Tuesday after fans booed him for turning up nearly two hours late to a London concert, blaming technical issues for his late performance.
The 19-year-old teen idol had been scheduled to take the stage at London's O2 Arena at 8.30 pm but said in a Twitter message that the time was pushed back to 9.35 pm due to "some technical issues".
Related: Justin Bieber tops Lady Gaga to rule Twitter
Many fans, and the venue itself, appeared not to have got the message after complaints poured in that Bieber was nearly two hours late when he finally appeared at around 10.20 pm.
"Last night I was scheduled after 3 opening acts to go on stage at 935 not 830 but because of some technical issues," Bieber wrote on Twitter, the micro-blogging site where he boasts the largest following of more than 35 million people.
"I got on at 10:10..so...I was 40 min late to stage. there is no excuse for that and I apologize for anyone we upset. However it was great show and I'm proud of that."
In the third of four tweets, he vowed to run on time on Tuesday, and in the final message said his relationship with the media, which picked up on fans' displeasure following Monday night's concert, was "not always easy but I'm trying".
The popular Sun tabloid newspaper said many fans, some of them as young as five years old, had gone home by the time Bieber began while others voiced frustration.