Unicom teams up with video giants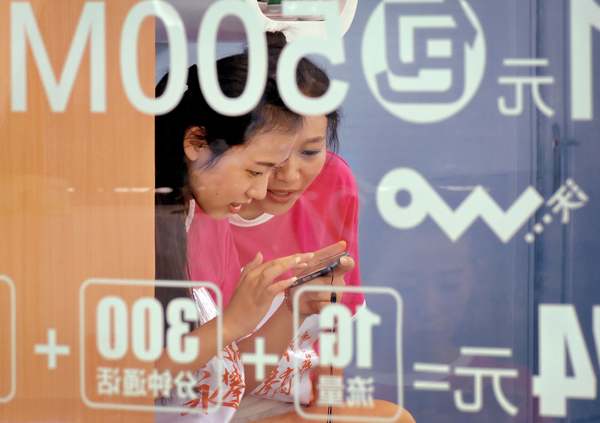 Two women surf the web on a mobile phone at an outlet of China Unicom in Nanjing, capital of Jiangsu province. AN XIN / FOR CHINA DAILY
Move part of telecom firm's efforts to diversify income base
China United Network Communications Ltd announced the launch of a partnership with a number of video-streaming websites on Thursday, to offer its mobile users better entertainment experiences.
The move came as the country's second biggest telecoms carrier by subscribers steps up efforts to boost its data traffic, which is outweighing calls and text-messages, as its major revenue source.
China Unicom said it will offer data packages that will charge users no extra data fees when they use smartphones to access content of Youku, LeTV, iQiyi and other video websites, all major players in the industry.
The company also developed its own video application for mobile phones. Within just seven months, its users have exceeded 12 million and 35 percent of them use the app at least once in a month.
Jiang Zhengxin, deputy general manager of China Unicom, said the company has built one of the best telecom networks in China to offer good video-streaming services.
"Video business has become one of our top priorities. The move will deepen China Unicom's partnership with internet companies," Jiang said.
The State-owned company is locked in stiff competition with China Mobile Communications Corp and China Telecom Corp. It is pushing forward mixed ownership reform to find new growth engines.
The reform will involve the shareholding structure of its Shanghai-listed unit, China United Network Communications Ltd.
China Unicom Chairman Wang Xiaochu said last week that the Beijing-based company is talking with 10 ministries to accelerate the reform process.
In the first quarter the company reported a 1.9 percent year-on-year decline in revenue to 69 billion yuan ($10 billion), but managed to generate a profit of 274 million yuan, up 88.3 percent.
Xiang Ligang, a smartphone expert and CEO of telecom industry website cctime.com, said China Unicom already had very close partnerships with Tencent Holdings Ltd, Baidu Inc and Alibaba Group Holding Ltd.
"The video business is playing an increasingly important role in telecom carriers' revenue. The trend will become more apparent in the 5G era," Xiang said.