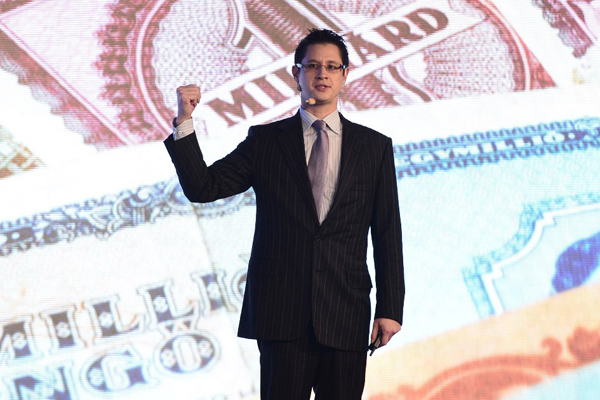 Shaun Rein, managing director of Shanghai-based China Market Research Group. [Photo provided to China Daily]
Shaun Rein appears frequently on television debates on China, pens columns, delivers keynote speeches at conferences around the world. The managing director of Shanghai-based China Market Research Group has also authored two books: End of Copycat China: The Rise of Creativity, Innovation and Individualism in Asia and End of Cheap China: Economic and Cultural Trends That Will Disrupt the World.
The anecdote-rich books document China's efforts to move up the value chain. Many foreign readers of his books and audiences said they are impressed by his in-depth explanations. But some wonder if he is too optimistic about China and too keen to defend policymakers and institutions.
Being controversial is not a problem at all for Rein. He is confident his conclusions are borne out by what has been happening in China. The changes taking place in China should not be ignored by any company that wants to succeed in this market, he said.
"I've spent more time in China than anywhere else. My conclusions are drawn from research and interviews with tens of thousands of consumers in China," said Rein.
"I don't think I am over-optimistic about China. On the contrary, I think many people have underestimated China's potential to innovate, and undervalued what's happening in China."
Every year, his consultancy firm CMR polls thousands of consumers in 15 cities across China to get insights into consumers' demands, consumption habits and many other details. Using such data, the firm develops strategies for foreign companies operating in China as well as Chinese firms aspiring to get more market share.
Rein has developed a "Theory of Innovation Curve". In China, he argues, enterprises are shifting from copying foreign products and services-the first stage, copycat-to innovating, which is the second stage. Enterprises modify their business models to better serve China's demands.
In future, increasing number of Chinese enterprises will innovate for the world-the third stage. Chinese enterprises' original products, services and business models will become popular worldwide.
Young Chinese consumers, he said, want something different as a result of rising individualism, and this trend will increase demand for niche products and services.
So, companies must understand local consumers' specific interests, aspirations and tastes. Some foreign brands that had done rather well in China are now falling behind simply because they are not learning from consumers, he said.
"Take ice cream, for example. A decade ago, Nestle products dominated the market. Now, Yili and Mongniu command a larger market share. Similarly, China's local brands such as Biostime are performing quite well in the baby formula market, which used to be dominated by foreign brands," said Rein.
From large telecommunication equipment makers and infrastructure construction machine firms to smaller companies offering food delivery, e-commerce services and smartphone apps, enterprises in China are showing their capacity for innovation, to meet increasingly diverse demands with high-quality products and services, he said.
But he has concerns over the large number of startups run by university students and young, fresh graduates who receive funds from local programs supporting innovation and entrepreneurship but have little idea where to start.
"It is dangerous to start up only because they have easy access to initial funding. If you have to drive a Didi or Uber taxi part-time to supplement a startup's funding, you probably need to think twice before starting the business," he said.
The season of "low-hanging fruits"-the situation in which cheap copycat products and services can easily win consumers-is gone. So, enterprises must innovate to win amid increasingly fierce competition, he said.
Although his firm is relatively smaller with 20 employees, Rein said he is looking forward to compete with big players in the sector such as McKinsey.
CMR's business is to provide clients with market intelligence they need to develop insights and strategic growth plans. These clients include Fortune 500 firms, private equity firms, SMEs and hedge funds.
"The key to our analysis is our ability to integrate global research methodologies with local know-how... our people, the brightest employees, research and interview consumers. This is highly intensive work and costs much, too, but this way we can ensure top quality of research. We don't outsource this work," he said.
A keen trainer, Rein is also an eager learner who always wants to try new things, be it skydiving, helicopter flying or bungee jumping.
"If someday I can have an opportunity, I'd really like to interview Ren Zhengfei and work with Huawei," he said with his trademark optimistic smile.