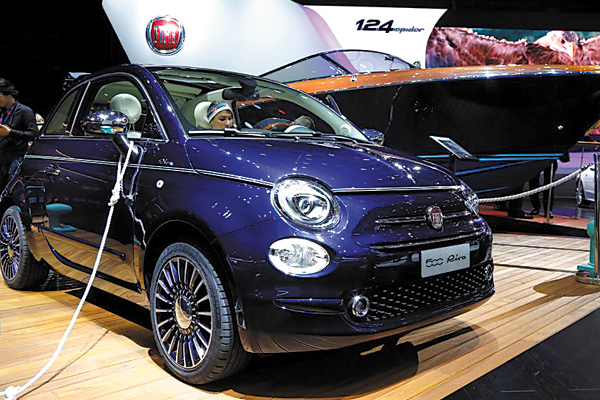 A Fiat 500 Riva car is displayed at the Mondial de l'Automobile, Paris, during media day on Sept 30. [Photo/Reuters]
Fiat Chrysler Automobiles' talks with Samsung Electronics over a partnership with its carparts unit have stalled because the Korean company is focused on resolving the Galaxy Note 7 smartphone crisis, according to people familiar with the matter.
Fiat and Samsung have also not yet agreed on the valuation of Magneti Marelli, the former's auto-parts manufacturing subsidiary, and the structure of a deal, said the people, who asked not to be identified because the negotiations are private.
While the discussions have not been dropped, it is unlikely that an accord will be signed by the end of the year as planned, because Samsung's priority now is managing the Note 7 phone issue rather than pursuing large deals, they said, adding that the two companies are still interested in exploring a partnership.
South Korea's largest company on Wednesday cut its third-quarter operating profit outlook by $2.3 billion after ending production of its fire-prone Galaxy Note 7 smartphones.
Fiat declined to comment on the status of talks with Samsung, while the latter said in an emailed statement that it doesn't comment on rumors or speculation.
Fiat Chief Executive Officer Sergio Marchionne, who dropped his push for a merger with another automaker last year, has increasingly turned his attention to technology providers.
In March, he offered to assemble cars for Apple and in May announced a cooperation project with Alphabet's Google on driverless vehicles.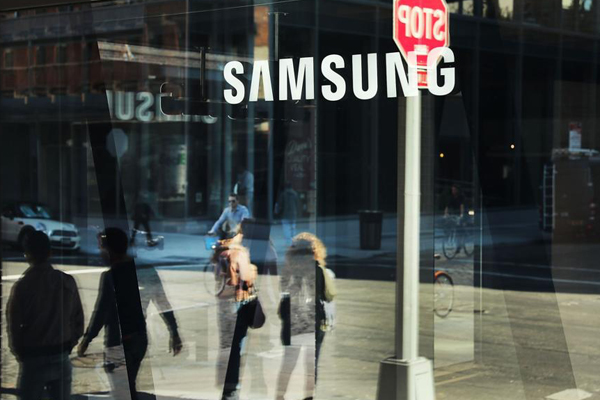 People walk past the new Samsung store in lower Manhattan in New York City on Oct 11. [Photo/AFP]
For Samsung, a move into automobile components would help decrease its reliance on consumer electronics.
Samsung was in advanced talks to buy some or all of Marelli, people familiar with the matter said in August.
The South Korean manufacturer was particularly interested in Marelli's lighting, in-car entertainment and telematics business, the people said at the time. Marchionne said on Aug 27 that Samsung is a "potential strategic partner".
Chairman John Elkann confirmed in September that Fiat is "holding talks to strengthen Magneti Marelli in the future", because "components are important in the evolution of cars and there is an increasing need for electronics". He said Marelli is in talks with several potential partners, including Samsung.
Selling part of Magneti Marelli would help Marchionne reduce debt, moving closer to what analysts consider the most challenging part of his five-year strategy: turning 5.5 billion euros of net industrial debt into a cash pile of at least 4 billion euros.
Achieving the goal at the end of 2018 would put Fiat Chrysler, the first major carmaker to strike a deal with Google on driverless vehicles, in a better position to find a partner.
Marchionne, who plans to leave the helm of Fiat in 2019, argues that the auto industry needs consolidation to finance investment in new technology.