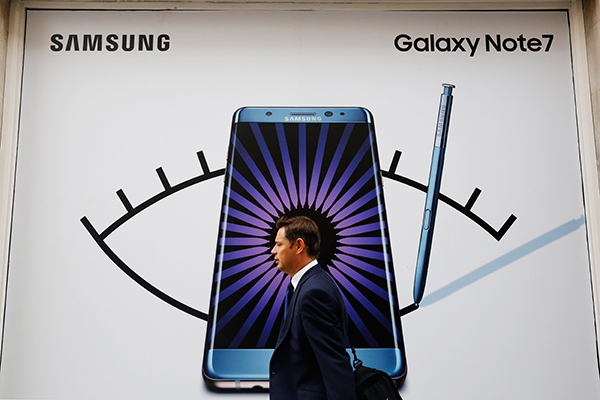 A man walks past an advertisement for the Samsung Galaxy Note 7 in London, Britain, September 2, 2016. [Photo/Agencies]
SEOUL - Samsung Electronics saw its estimated losses from discontinuing Galaxy Note 7 smartphones amounted to as much as 7 trillion won ($6.2 billion) in consideration of direct and future costs.
Samsung said in a statement on Friday that opportunity cost of the permanent end of the Note 7 phones would be in the medium range of 3 trillion won, including 2.5 trillion won in the fourth quarter and about 1 trillion won in the first quarter of next year.
Samsung has cut its preliminary figure for the third-quarter operating profit from 7.8 trillion won to 5.2 trillion won to factor in the direct costs of 2.6 trillion won from the Note 7 exit in the third-quarter earnings.
The earlier recall on Sep 2 of the fire-prone smartphones is estimated to have caused a loss of about 1 trillion won. Samsung announced the initial recall two weeks after the Note 7's debut on scores of cases of the products catching fire and overheating.
Samsung's termination of the Note 7 production has incurred, or would incur, a total loss of at least 7.1 trillion won, including 3.5 trillion won in opportunity costs, 2.6 trillion won in direct costs and 1 trillion won in losses from the earlier global recall.
Samsung said it will make efforts to minimize the fallout from the Note 7 termination by expanding sales of existing devices such as Galaxy S7 and S7 Edge smartphones.
The company vowed to focus on overhauling its internal process for product quality control to strengthen product safety and provide safe products.