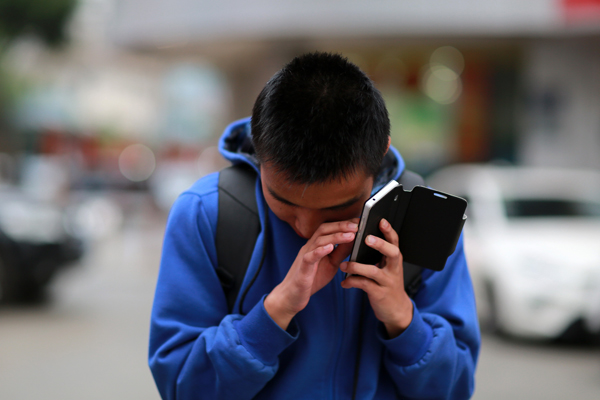 A visually impaired man calls his parents on mobile phone in Kunming, Southwest China's Yunnan province. [Photo/VCG]
BEIJING - It was a frustrating day for Sun Tao. He was having difficulty using Alipay, an online payment system created by Chinese e-commerce giant Alibaba. What should have been a straightforward task was proving difficult.
Most people with such difficulties, simply turn to cash instead, but it was not so easy for Sun. He is blind and cannot even tell the difference between denominations of bank notes.
After upgrading the Alipay app on his Android cellphone, he found the screen reader, a software that converts text into synthesized speech, was no longer available.
Sun called customer services, only to get a puzzled response.
"Blind people can use cellphones? Really? How?"
Sun didn't take offence. By now he is used to ignorance about blind people's way of life, not to mention ignorance of his smartphone use.
Smartphones have transformed Sun's way of life.
China has about 13 million visually impaired people, and about 6 million of them have smartphones, according to the China Information Accessibility Product Alliance (CAPA).
With the help of screen readers such as VoiceOver on iOS and TalkBack on Android, they are able to chat with friends, order food and shop online by listening rather than looking.
Wearing sunglasses and waiting for the 603 Bus in downtown Beijing, Li Chongyang plays with his smartphone while he waits for the bus like everybody else. Unlike everybody else, the 25-year-old has never had a chance to see the world as he was born blind. However, unlike everybody else, he knows exactly when the bus is coming, as an app tells him it will be exactly five minutes. When it arrives, the app even sends him an alert telling him to board.
Without his smartphone, riding a bus or taking a cab is a near impossible mission.
"I don't know which car the taxi is. Sometimes they pull over right in front of me, but I am still waving my hand. They think I am a nutter," he said.
"Since installing car-hailing apps like DiDi on my phone, I can tell the driver where I am, what clothes I am wearing, and the driver can help me get in the car."
Li has installed 120 apps on his phone. With a screen reader, he invests in stocks and shares, and tracks his daily exercises to keep fit.
"Smartphones have opened the gates of the world to me," he said.
More accessibility
But the gates are not yet wide enough. Since his news app was upgraded, Li can no longer "read" news articles, just as Sun struggles with Alipay.
Sun was not able to make an online payment for nearly three months, but finally managed to contact Alipay's technology department.
The engineers said they had removed the screen reader for fear that hackers would hijack it and get access to users' passwords and other information.
"I felt frustrated when I received Sun's complaint because I think technology should remove barriers for the disabled rather than create new ones," said Li Jiajia, senior technician for Ant Financial Service Group, Alibaba's financial services platform, which owns Alipay.
Alipay formed an emergency response team to solve the problem. Later they also invited Sun and two other visually impaired users to become beta testers for the new version of the wallet on Android.
Blind users of QQ, Tencent's popular online instant messaging app, reported similar problems.
"We will never give up on our visually impaired users just because we fear a few risks," said Xian Yecheng, general manager of Tencent's Instant Messaging Product Department. The department spent six months improving their defenses against the hacking of the screen reader.
Emojis were also unreadable to blind people when they were chatting with others online. However, thanks to engineers' efforts, the screen reader can now tell Sun, "your friend Ming sends you a grin." The possibilities are endless.
"Internet firms are always surprised when they receive complaints from blind users. They don't know that the blind also use the Internet. Nor do they know how to make their products accessible to this group," said Liang Zhenyu, secretary of CAPA.
CAPA was co-established in 2013 by top Internet firms, such as Alibaba, Baidu, Tencent and Microsoft, and China's Information Accessibility Research Association, to call for more information accessibility for the disabled.
"What disabled people need most is to be treated as equals," said Liang. "Information accessibility is essential for them to fit in to society. Without access to information they will be shut out."
Sun is glad that he can pay for food and daily necessities online again, while Li Chongyang is expecting a new pair of eyes -- a new app Baidu app for the visually impaired, which can read almost any object it scans with a camera.
"I hope the app can tell me, 'a 30-year-old man is standing in front of you,' or 'this a 10 yuan note.' In this way, the mobile Internet can really open my eyes and help me see the world," he said.