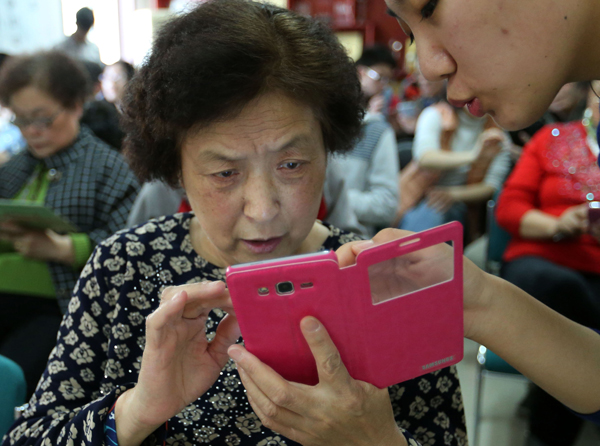 A senior woman learns to use her new smartphone at a community center in downtown Beijing. WANG ZHUANGFEI/CHINA DAILY
Liu Li, 54, teaches third grade in Beijing and keeps touch with parents of her students via WeChat. Four years ago, she did not even own a smartphone. In 2012, her sister bought her an iPhone5 and a whole new world opened up to her.
"I found there were so many things that I needed to learn," she said.
Liu soon noticed that many of her co-workers were using WeChat, so she asked a colleague to install the app for her and teach her how to use it.
She still remembers her first "Moment," a kind of WeChat newsfeed to share text, photos or videos. She posted photos of the first snow in Beijing in 2012.
Now she does far more. She has a chat group that includes parents of all her students. When there is an activity at school, she sends photos or videos of students to their parents.
"I can send notifications and answer parents' questions at any time via the group. It's so convenient," she said.
"Convenient" is a word she uses frequently to describe smartphones and mobile internet, and convenience is probably the main reason why she has become so dependent on them.
"Now I use my phone for checking maps, booking trips, shopping and calling cabs," she said.
Mobile payments also changed the life of Liu Jianhua, 55. After her daughter showed her how to shop online with her phone, she has almost stopped visting supermarkets.
"It really saves me a lot of time," she said.
Mobile internet also caters to her needs for information. Instead of reading newspapers, she now gets the news on phone every morning.
"I usually spend two or three hours each day reading news on my phone," she said. She subscribes to a dozen newsfeeds from newspapers like the "People's Daily" and "Beijing Daily." "If there is a good article, I share it in my Moments," she said.
For retiree Zhu Dan, 56, browsing WeChat moments has become part of her routine. "I would feel a little awkward if I could not do it one day," Zhu said. "It is like closure for the day." Besides browsing, Zhu posts things herself.
"I'm quite into this new stuff now and very willing to learn more," she said.
However, Luddites remain.
According to a 2015 survey by Wuhan University, around a third of the seniors "frequently" encounter difficulties when using the internet and about half of them "occasionally" have problems.
Li, 65, said that he is annoyed that many restaurants offer discounts for mobile payment but he hardly knows anything about smartphones except chatting on WeChat.
"As seniors, we have to spend more money or time to accomplish what young people do just by tapping their fingers," he complained.
There is still a long way to go. The main problem for seniors is not that they are incapable, but that they have not had the chance to learn.
"Many seniors assume that new things are challenging, but if they have a try and learn from the young, there are not too many challenges. You have to believe that you will be able to do it," said Liu Li.
Xinhua