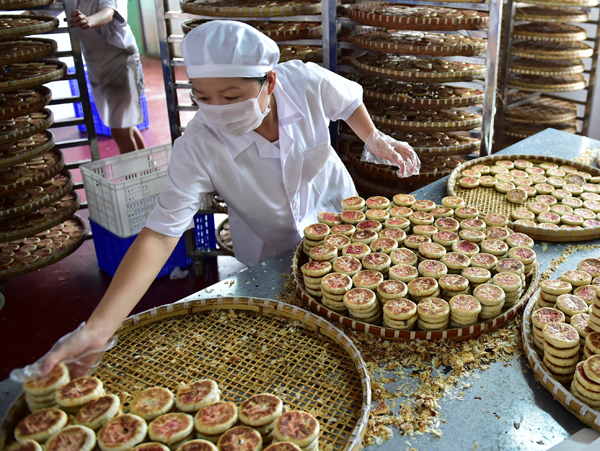 A worker prepares mooncakes at a workshop in Yiwu, Zhejiang province. The country's palm oil imports from Malaysia jumped 68 percent in July from June as the forthcoming Mid-Autumn Festival has boosted domestic demand for edible oil. LU BIN/CHINA DAILY
Big appetite for mooncakes set to revive demand for palm oil in China
China's appetite for palm oil imports is set to recover from a 25 percent slump in the first half as cheaper supplies and a major autumn festival boost edible oil demand.
China's palm oil purchases plunged to 1.87 million metric tons from January to June after El Nino-weather conditions squeezed supplies and drove prices to two-year highs. Buyers in China opted for soybean and sunflower oil, with soybean imports rising by about 3.4 million tons to 38.56 million tons, while sunflower oil imports surged 23 percent to 470,000 tons, according to Chinese customs data.
Palm oil's move into a bear market in July has already helped it gain some of the ground lost to rival oils, with imports from Malaysia jumping 68 percent to 225,856 metric tons in July from June, according to data from cargo surveyor Societe Generale de Surveillance. A jump in demand for oil to make fried foods and seasonal treats like mooncakes during the three-day Mid Autumn festival in China, may boost buying further, according to Ivy Ng, regional head of plantations at CIMB Investment Bank Bhd.
"If festival demand is good they'll have to buy because they don't have much stock," Ng said by phone from Kuala Lumpur. "This is the second grandest festival in China after the spring festival. Typically, during festivals people tend to consume more oil.".
Palm oil stockpiles in China are now about 300,000 tons, the lowest since at least 2010, the China National Grain and Oils Information Center said on August 3. Purchases typically rise a couple of months before the Mid-Autumn Festival that starts on Sept 15 as refiners and foodmakers restock edible oils.
"They're trying to replenish their stocks level before the festival season kicks in," David Ng, derivatives specialist at Phillip Futures Sdn, said from Kuala Lumpur. "Palm oil is preferred by foodmakers because of its low price."
With palm oil's discount to soybean oil widening to as much as $138 ton on July 12 compared with an average of $80 in the first half, price-sensitive buyers may switch to palm to meet their consumption needs.
Earlier this month, Chinese companies ordered between 80,000 and 120,000 tons of imported palm oil for delivery from October to November to benefit from its discount to local prices, according to the CNGOIC.
Still, full-year imports may not match previous years as producers grapple with lingering El Nino damage and China steps up sales of stockpiled canola and soybeans, according to Tommy Xiao, an analyst with Shanghai JC Intelligence Co.
"Given the low domestic stocks, imports could jump any time whenever prices are favorable," Xiao said. Monthly palm imports could resume to about 300,000 tons a month, he said.
Palm oil yields in the world's biggest growers Indonesia and Malaysia are struggling to recover from one of the strongest El Ninos on record. Production growth is slow and stressed trees may only show a faster improvement in yields from September onwards, according to Zakaria Arshad, chief executive officer of the world's biggest crude palm oil producer Felda Global Ventures Holdings Bhd.
Bloomberg