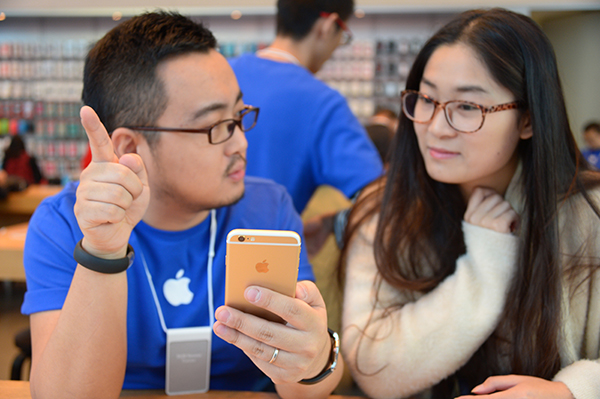 A salesman demonstrates an iPhone 6 during its launch in Beijing in October 2014. [Photo/China Daily]
Chinese analysts said that the yet unconfirmed new product launch in September will show whether or not the iPhone will be able to generate a new wave in one of the most crucial markets in the world.
US tech giant Apple Inc recently announced sales in the Greater China market fell 33 percent to $8.8 billion from $13.2 billion for the third fiscal quarter (second calendar quarter), marking its highest decline among all regions.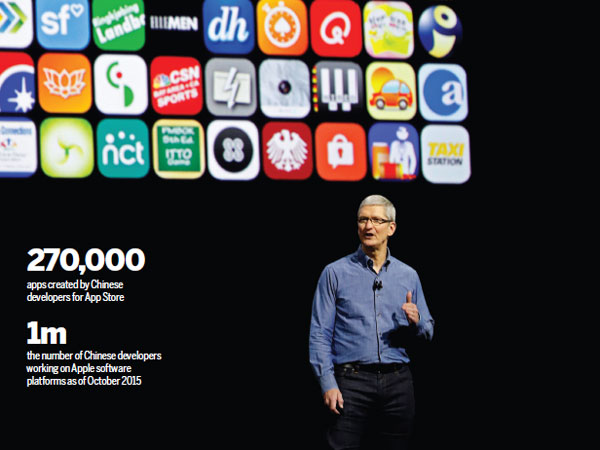 Apple Inc CEO Tim Cook speaks on stage at the company's World Wide Developers Conference in San Francisco on Monday. [Photo/Agencies]
The revenue slump in one of the company's crucial overseas markets generated heated discussions in the industry, while Tim Cook, head of the California-based company reiterated his optimism in China and added that the revenue earnings in the region were affected by the currency headwinds.
"We have an incredible lineup of products on our pipeline and I'm very bullish on a better long term opportunity," said Cook.
"Our services business grew 19 percent year-over-year and App Store revenue was the highest ever, as our installed base continued to grow and transacting customers hit an all-time record," said Luca Maestri, Apple's CFO. "We returned over $13 billion to investors through share repurchases and dividends, and we have now completed almost $177 billion of our $250 billion capital return program."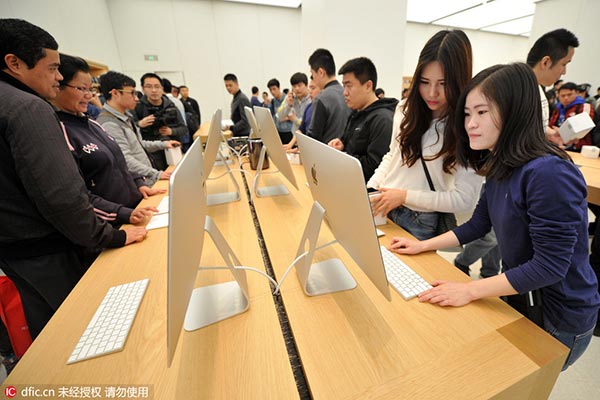 People try out products displayed at the Apple Store in Fuzhou, capital of East China's Fujian province, April 2, 2016.[Photo/IC]
James Yan, research director at research company Counterpoint Technology Market Research, told China Daily, due to the limited upgrades on the existing flagship—iPhone 6s/6s Plus compared with the previous generations and the low demand of the newly launched small-sized iPhone SE, the company has faced a fierce competition with local smartphone vendors in the medium range market priced between 2,500 yuan to 3,500 yuan per unit.
According to Counterpoint, home grown smartphone maker Oppo became the No one brand in China for the first time in June, with a record 23 percent market share. It was followed by Huawei with 17.4 percent and Vivo with 12 percent. Apple made its way onto the list at fourth place, with 9 percent market share.
Jin Di, research manager at another consulting firm IDC China, also said that, domestic verndors, such as Huawei and OPPO, are still in the mid-market, "not coming into premium market yet, whereas Apple still plays a leading role in premium market."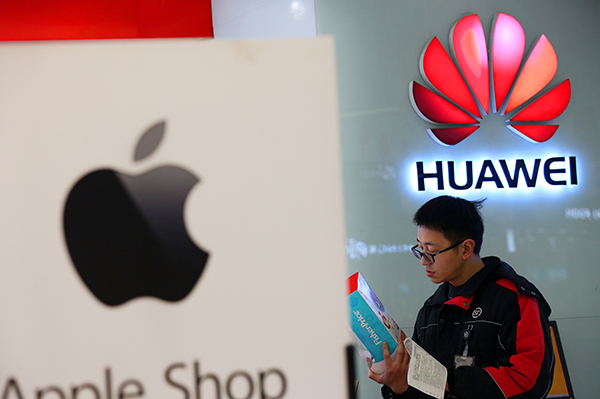 A man passes by the electronics products zone in a Suning store in Nantong, Jiangsu province. [Photo/China Daily]
Statistics from IDC Quarterly Mobile Phone Tracker in China market show that Apple dropped from the second to the fourth in the first quarter this year, but Apple still remained at the top five ranking in Q2.
"These Chinese vendors did provide excellent smartphone -- they look fancy, and really have great sense of touch, and they are offered with advanced and differentiated techs, such as dual cameras, flash charge and revoke 3.5 mm audio jack," said Jin.
Jin elaborated that, to a large extent, the cheaper price, improved distribution constriction and increased investments on commercial marketing and branding, does appeal the certain segment of consumers who chase on fancy design and lower price in lower tier cities in China.
"The competition still exists but how Apple performs would still depends on the upcoming iPhones launches later this September," said Jin.
A long-term bet on the future
"The revenue drop in the third fiscal quarter in China market is reasonable as the iPhone SE unveiled earlier this year seems not to catch up with the majority of domestic phablet lovers who are keen on big-sized display to enjoy tablet or even PC experiences on their handsets," said Yan. "Demands from distribution pipelines were also reflected weak for the SE module."